It's In-the-Books: International StreetFood Challenge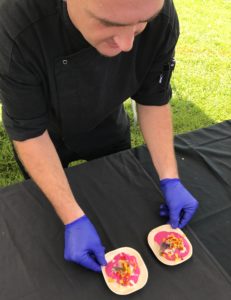 Many moons ago when I was a child, I'd pull out a big catalog and a marker to circle the items I had hoped that Santa would bring me. Not only was this an excellent way to keep me quiet and a way for my parents to plan their shopping excursions, but it built up the holiday hype for me. I'm pretty sure I had all 3,872 items memorized and when we'd rip into the presents on Christmas morning, I always ended up with my top tiered options.
Fast forward a LOT of years (no way I'm telling you how many) and I had the same reaction when I went to Wilmington's International Street Food Challenge held at the Battleship USS North Carolina on August 26th. Out of about a bazillion talented chefs in the Wilmington area, six heavy hitters showcased their dishes and it was a food lover's dream.
Set up in a semi-circle of tents, these chefs displayed their dishes to be sampled not only by the judges, but ravenous foodies from all around our area.
Flip through our gallery of StreetFood Challengers.
---
---