Putting a Hurting on Some Tacos at BLOcKTACO
Remember those nature shows on TV where a Bald Eagle is soaring above a picturesque lake and sees a trout something like two miles away then swoops down doing about Mach 2 and grabs the fish in his talons? Well, that's how I am with tacos. No, seriously, if there are tacos in my general vicinity, I WILL find them and I WILL eat them.
I just had the opportunity to dig my talons into some great tacos at BLOcKTACO last night. Undoubtedly
far less graceful than a majestic raptor attacking its prey, I still put a hurting on those tacos.
Final score, Ed-2, Tacos-0.
BLOcKTACO is nestled in a very small little "hole in the wall" right next to Satellite, one of the hottest hangouts in Wilmington, and you could easily miss the place if you blink, so don't. But if you're looking for some great tacos, either after some imbibing at Satellite or just because you like great quality food, look no further. When I say a "hole in the wall," that's no exaggeration. It literally used to be a storage unit, but add a little bit of construction, park a neon lighted station wagon with a life sized burro in front, serve some absolutely delicious food and that place instantly turns into a "go to" destination.
So yeah, go there. Like now! I drove all the way from Hampstead in the middle of a torrential downpour just to write a BLOcKTACO review and after eating there, I can honestly say I'd WALK there in the middle of Hurricane Irma just to have them again.
As I typically do, I deferred my first dish choice to the staff for either a personal recommendation or even better, their best-selling item. Instantly, all three of the guys working in the kitchen, in unison, said "carnitas." Well, who the heck am I to argue with that? I also opted for a "chauchas" taco, made with grilled green beans. Yes, you read that right…. a grilled GREEN BEAN taco. Judging from the smells coming out of this little kitchen and the very cool T-shirt for sale in the window (I firmly believe a cool T-shirt is a trustworthy indicator of a good place to eat) I knew I'd be in for a wild ride. I was.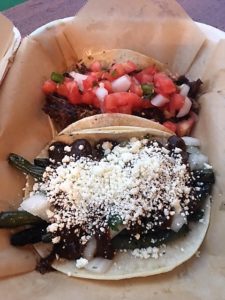 When the food arrived, I was instantly reminded me that this wasn't a traditional taco joint at all. The green beans beckoned me from their little corn tortilla blanket, the roasted tomato salsa and homemade cotija cheese whispering my name in a sultry voice and making me wonder if I was betraying my carnivorous lifestyle by embracing such a creation. One bite and I was in a committed relationship with these heavenly little morsels. Texture, vivid flavors and just plain great taste, these tacos and I are going to be friends for a long time in the future.
The accompanying chips and homemade guacamole were a great side dish, and coupled with the the fresh squeezed limeade, my taste buds were on a roller coaster of vibrant flavors that were just as bright as the serape' on the burro out front.
A staring contest ensued between me and the carnitas taco as it sat there all seductive looking with its brightly colored pico de gallo teasing me and the amazing scent wafting in my face as if it was daring me to try it. I caved in and pounced on it, attacking the perfectly cooked pork with the same ferocity as a housewife with a BOGO coupon at Yankee Candle. Emerging as the victor in this battle royale, I couldn't help but close my eyes to reflect on the amazing blend of brown sugar, coffee and cinnamon the carnitas are seasoned with.
Oh yeah, you read it right. Brown sugar, COFFEE and CINNAMON! The blend gives it a hard punch of flavor in the midst of a smooth ride down flavor lane, showing restraint like a UFC fighter who punched you but didn't do so at full strength so you didn't have to go to the Emergency Room. Absolutely delicious and considering it takes them 2-3 days to make the carnitas, the dish is a testament to how thinking "out of the box" can liven up something like a taco to a level that you wouldn't expect. Well played, BLoCKTACO, well played.
Sitting outside eating delicious tacos ANYWHERE is good for the soul, even if your spirit animal isn't a taco like mine is. Add in some friends, great conversation, a station wagon with neon lights and a burro and you've got one heck of a dining experience.
That's exactly what BLoCKTACO is. Fancy? Not at all. Pretentious? Nope. Cheap "drunk" food? Hardly. This is the kind of place you could very well take the family all the way across town to just for some good food, or who knows… maybe a first date, a lazy afternoon playing tourist in your hometown or just because it's a Wednesday night in the middle of a thunderstorm and you're hungry. In my humble, taco-loving opinion, the food is great, the service is awesome and this BLoCKTACO review advises that it is definitely worth putting on your list of places you've gotta try.
---
Love tacos? Find more Mexican restaurants like Blocktaco.
---
Contributing blogger: Ed Walsh grew up in Las Vegas, the son of an accomplished chef. Traipsing all over the world to more than 35 countries during a 21 year Marine Corps career allowed Ed to sample and appreciate all types of food from grass hut family dining to Michelin star rated fine dining restaurants. "I know my way around a dinner plate and I just like what I like," he says. Asked what his absolute favorite dish from all of his international travels was, Ed quickly says it was his Mom's spaghetti. Ed is single, and loves long romantic walks to the taco truck. He also loves spending time with awesome food – almost as much as he enjoys spending time with his awesome kids.
---
---