In Search of… the best donuts in Wilmington NC
Seven days, seven donuts. It was on. We spent the week running up to National Donut Day on a truly altruistic project: taste testing – well, okay, we ate every bite of each one – donuts. The best donuts in Wilmington NC, from seven of the hottest doughnut shops in the Port City.
We'll just make a statement: there is no bad donut. We're not judging. There are just apples and oranges. Or cake and yeast, glaze and frosting, coconut and peanuts. Donuts and doughnuts.
For donut lovers, the cake donut versus yeast doughnut is the first issue to tackle. Even though it's all just fried dough, each type has its own fan club. The two types of donuts are very different. Yeast doughnuts are better, say defenders, because they are puffy and light, optimally a little chewy. Cake doughnuts are better, argue the opposite side, because they're more substantial, more filling, and more dunkable. Cake donuts are made from what is basically a cake batter, and leavened with baking powder and/or baking soda. The inside of a good cake donut should be moist and crumbly, and have the density of a muffin or fluffiness of a birthday cake.
Glaze, frosting, toppings? The sky is truly the limit, and the hottest new donut shops employ boundless creativity in their offerings.
With that in mind, we tackled this assignment with a plan, to keep things as fair, and as simple, as possible. Our first choice on this "Seven Donuts in Seven Days" mission was to order the "Donut of the Day." If the donut shop of that particular day wasn't featuring a specific donut, we asked for a recommendation: what's the most popular donut?
Our seven donut shops really did serve up seven different donuts. It's more than the glaze, icing, or toppings. It's just the slightest variation in the seven simple steps that go into making an awesome donut. Those seven steps:
Gather the ingredients: milk, sugar, salt, eggs, shortening, flour and leavening (yeast or baking powder/baking soda)
Mix the batter
Prepare the glaze, icing, or frosting. Put your toppings in a small bowl.
Roll your dough
Cut the donuts
Fry the donuts
Ice, sprinkle, decorate
In Search of the Best Donuts in Wilmington NC: Seven Donuts in Seven Days
Day 1. Donut Inn – 1427 Military Cutoff Road, Wilmington
This comfortable, inviting little breakfast restaurant has cafe tables, big windows and super friendly staff. The selection of donuts is huge – frosted, sprinkled, glazed, and decorated. I ordered the "Donut of the Day," which was a glazed sour cream donut with coconut topping. A super moist cake donut and great toasty coconut flavor, this was a winner. The best part of this donut was the perfect, sweet, fried crunchy bits around the edges. The donut hole is really the perfect bite of the donut. This donut had a huge advantage in this taste-testing adventure; if I was not on assignment, I would have chosen this as one of the best donuts in Wilmington NC from all the other tempting options at Donut Inn.
Day 2. Rise Biscuits and Donuts – 1319 Military Cuttoff Road, Wilmington
We jumped past the incredibly tempting breakfast biscuits, and headed straight to dessert. I mean breakfast. There was no featured donut, so I asked for the "favorites" and the suggestions were the old fashioned donut, cream brulee and the chocolate frosted. I opted for the crème brulee. The donut optics here are kind of fancy – everything is beautiful with fancy pink frosted donuts, berries, and long johns decorated with real strips of bacon. The creme brulee donut is a yeast donut, with a carmelized thick sugar coating that had the exact crackle of superfine sugar carmelized on a creme brulle dessert. This donut also had a distinct French vanilla flavor, with a melted custard in center. This was a winner.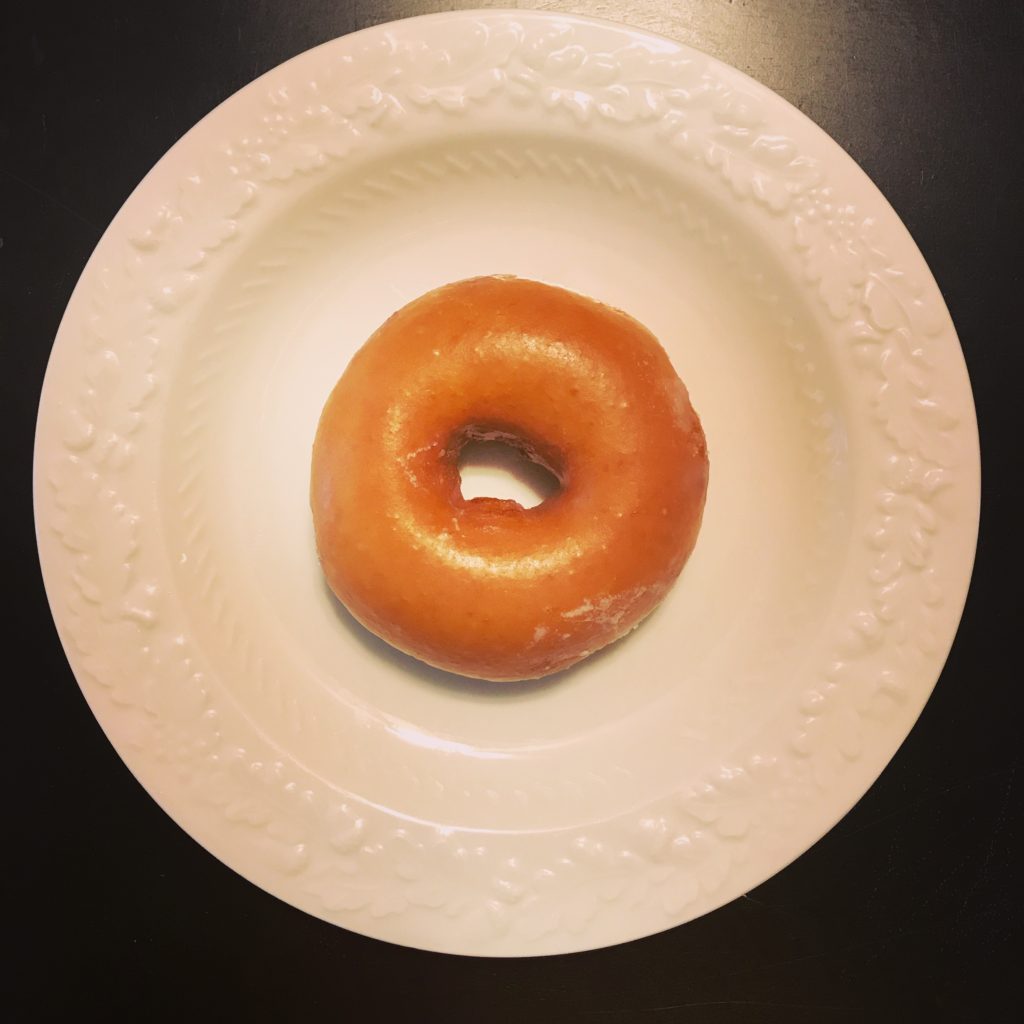 Day 3. Krispy Kreme Doughnut – 2822 South College Road, Wilmington
Krispy Kreme iconic, the quintessential donut, and a nationwide chain. I had Krispy Kreme doughnuts long in Chicago, decades before I became a Wilmingtonian. Krispy Kreme was founded in Winston-Salem, North Carolina, in 1937, with a super secret yeast donut recipe from New Orleans. The donuts were sold out of a hole cut in the bakery wall… and later from a custom-designed showcase in 1944. Krispy Kreme are mass-produced, yes, and they have that off-the-assembly-line perfection. But, it is perfection. This recipe has stood the test of time, and if you watch for the "Hot Now" sign in front, you are guaranteed melt-in-your mouth yeasty, sugary goodness. Krispy Kremes are the favorite of fundraisers, and they still give away a free donut for each A on a student report card. There's a lot to love about that.
Day 4. Duck Donuts – 6801 Parker Farm Drive, Wilmington
Duck Donuts inspires all kinds of donut-related excitement. There is a new store opening at Pioneer Point, and everyone is anticipating another donut outlet, because, well, there will never be too many. Duck Donuts, originally from the Outer Banks, has a different take on fresh – each donut is made to order. No display case to labor over, which presents either an opportunity or a challenge. It was a little too much thinking for me. I prefer to walk in, wait for a donut to catch my eye, point, and eat. The effort at Duck Donuts is worth it, though. You start with a bare donut, then select a coating from the menu (powdered sugar, cinnamon sugar, glazed, chocolate icing, vanilla icing, maple icing, blueberry icing, lemon icing, strawberry icing, or peanut butter icing), then pick a topping (rainbow or chocolate sprinkles, bacon pieces, shredded coconut, oreos, or chopped peanuts), and then choose a drizzle (hot fudge, blackberry, raspberry, or salted caramel). Or, you can use one of the coatings as a drizzle. See… lots of decisions to subject your morning brain to. We asked for the order taker's favorite, and received a maple iced donut with bacon pieces, in its own cute little single-donut box. A perfectly lovely donut, although the bacon was a little chewy, not crispy. Next time, we would study up and have our order saved as a message to ourselves.
Day 5. Wake N Bake Donuts – 114 Princess Street, Downtown Wilmington
So, it's not the prettiest donut in the group. But it's one of the real-est donuts in the group. The Red Velvet cake donut above was the donut-of-the-day at Wake N Bake's downtown location. This special confection was the perfect combination of soft cake interior, slightly crunchy fried edges, and sugary glaze. It was a super donut, with a subtle cocoa flavor that marks a good red velvet cake. This is a donut that stands up to a cup of coffee. Wake N Bake is the artist among donut purveyors, with a super cool display of their flavors, each with a hip names, like Purple Haze, Strawberry Cheesecake, and and funky decorations, including Fruit Loops, Fruity Pebbles, or bacon. These are big, hearty, donuts… the only problem is you will want more than one flavor. Return trip. Or trips.
Day 6. Jondough – 113 Village Road NE, Leland NC
Leland got lucky with a specialty donut shop of its own. If you're on the west side of the river, you don't have to head into Wilmington for a designer donut, or settle for a chain donut. Jondough serves up a huge selection of great big, generously frosted and boisterously decorated cake and yeast donuts. With no featured donut, we asked for the most popular, which was either a traditional glazed, or this: chocolate frosted cake donut, with coconut and caramel drizzle. About the furthest thing you could get from a simple glazed donut, so we opted for fancy. The donuts here are fresh, with no corners cut and no toppings scrimped – and the service is super friendly. It's worth a stop for the donut lover.
Day 7. Britt's Donut Shop – 11 Carolina Beach Road, Carolina Beach
Britt's Donuts are as much an experience as a food product. Britt's has been a fixture along the Carolina Beach boardwalk since 1938, and most locals have their own traditions for a Britt's expedition and advice on how to organize yours. First, steel yourself for a line if you go during a high-demand time (we went on a Wednesday morning at 8:45, no line, no waiting, plenty of space at the counter), and second, eat your donuts immediately. Nothing fancy here, just smallish, hand made glazed yeast donuts. Dare we say "artisan" donuts? They are newly fried, greasy-good, puffy, chewy, and coated with the most perfect donut glaze in the universe. I am not exaggerating. You can buy a white paper bag of a dozen donuts for less than ten bucks, and take them home – if you don't eat them all yourself on the way – but these donuts lose volume and texture by the minute.
Weigh in on Wilmington's donut scene. Do you have a favorite donut joint, and a favorite donut flavor? We're laying off for at least a month, but the call of the donut will catch us again, for sure.
Save
Save
Save
Save
Save
Save
Save
---
---