Spoonfed Kitchen and Bake Shop: a Dose of Foodie Happiness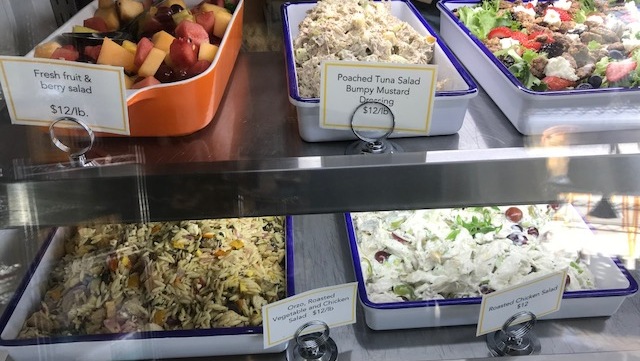 You ever walk into a place and instantly get a good vibe? You're not sure what it is, but there's SOMETHING there that makes you feel good inside long before you even order your appetizer.
Well, I just had a heaping order of that when I went to SPOONFED for brunch.
I'd heard of SPOONFED from a couple friends who have a slight addiction to the place and I assured them (almost to the pinkie promise level) that I'd go there someday to check it out. I don't know what it was but I just felt drawn to the place the other day and since I was in the area, I decided that it was SPOONFED time! After eating my brunch, I'm thankful that whatever those supernatural powers of fate were led me there.
Nestled in the corner of a complex off of Eastwood Ave, the brightly colored orange and yellow outdoor seating welcomed me with a smile that I gladly returned as I entered the restaurant. As soon as I walked in, there was a really positive, almost palpable vibe in the place. Not sure if it was the artwork on the walls, the brightly colored furniture with accentuating wood features or the heavenly smells coming from the open kitchen, but the smile I had on my face got comfy and stayed the entire time I was there.
I don't really know what to call SPOONFED. I mean, yeah it's a restaurant that's quickly gained a sizable, loyal customer base since it opened this past May, but it's also a bakeshop that serves magical items you'll forfeit your Gold's Gym membership for. As if that isn't enough, they have a full service coffee bar so you can grab a latte or espresso to go with your baked goods. Oh yeah, and let's not forget the wide selection of wines and deli items you can bring home for later. So I guess, although the sign says it's a kitchen and bakeshop, it's actually an adoption center for any and all good things that can be served as, or with a meal. Probably easier to put "kitchen and bake shop" on a sign, I'd imagine.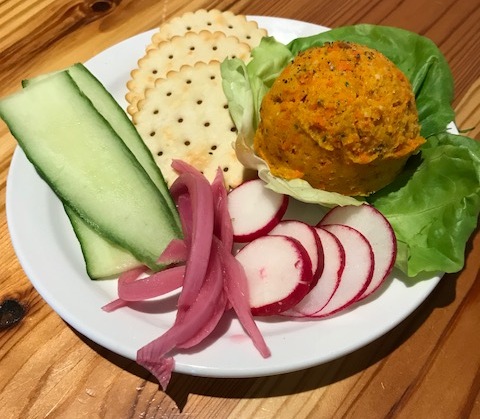 Having thoroughly studied the menu and chosen the perfect selection of Chilaquiles for my brunch, I stepped up to the counter to order with confidence, ready to "carpe" the heck out of this "diem" and feed my hungry face. It was hard to maintain my laser focus, however, as platoons of covered and aligned, seductive baked goods drew my attention their way. Pumpkin Snickerdoodles, Peanut Butter Chocolate Chip cookies, brownies, scones and a variety of other treasures reached out to me, pulling me in their direction but I somehow managed to regain my composure and ordered my meal (with a promise to the brownies that I'd be back later for a little rendezvous.)
For those not familiar with Chilaquiles, they're pretty much breakfast nachos. Yes, there is a heaven, and this is it. Tortilla chips, queso fresco, avocado, onion, cilantro, tomatillo salsa, shredded radish and fried eggs combine to make an awesome brunch option. Chilaquiles can be tricky with flavor because cheese and eggs are notorious for absorbing or stealing the flavors of other ingredients. Not the case with these though. Every ingredient's flavor popped individually and combined as a galvanized, All-Star team of mouthwatering deliciousness. I don't speak Spanish fluently but I'm pretty sure Chilaquiles means "Holy cow I can't believe that I get to eat nachos for breakfast and these are delicious!" Just sayin'.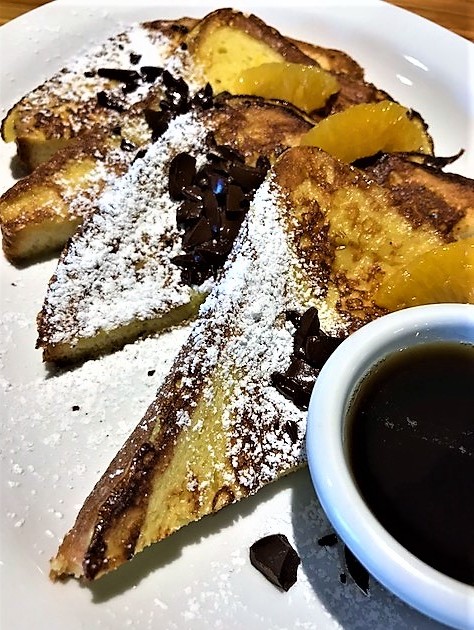 Now I'm not a big "breakfast food" guy (thus my choice for Chilaquiles) but sometimes I stray from the "lunchy" to the "breakfasty" side of brunch (yes, I DID just make up those two words). On the rare occasions that I do stray, there's always a good chance it's because French Toast is involved. And such was the case this visit. Orange and Vanilla scented brioche French Toast with maple syrup and grated dark chocolate… oh yeah, gimme some of THAT action. I don't typically think that chocolate should go with fruit, but since I was there on a fate influenced mission, I opted to think out of the box and now I'm a believer. Well, at least for the sake of this SPOONFED Kitchen and Bake Shop review.
I was still riding the high of happiness that started in the parking lot as I looked around the place, with its bright furniture and awesome artwork, I ate some delicious food on BOTH sides of the brunch spectrum and took it all in. The vibe was everywhere – it's just an upbeat place that would even make your grumpy old neighbor down the street crack a smile. Even in the kitchen, which can get pretty hectic sometimes, the staff was laughing and smiling, but putting out dishes quickly without sacrificing the details or quality. The servers were genuinely smiling, not those forced "hurry up and give me my tip so I can go home" smiles we've all run into in the past. They actually LIKED being at work, and the other customers I saw all seemed pretty stoked to be there too!
This type of environment doesn't just happen, it's created, and SPOONFED co-owner Matt Lennert attributes it to a rather simple outlook. "Positivity attracts positivity," he said. "Positive, upbeat people attract the same types of individuals, and we're glad to have that here." Don't mistake his optimistic outlook, though. For 12 years, Matt and his wife Kim fought and clawed their way through the Chicago area's extremely competitive culinary and catering world with their café' and catering business "Moveable Feast." It certainly wasn't easy but their products and mindset created a loyal customer base, and the food spoke for itself. So much, in fact, that some lady named Oprah Winfrey (yes, THE Oprah Winfrey) became a fan, and called upon them to cater several of her events. As a matter of fact, Moveable Feast's brownie was highlighted on Oprah's "My Favorite Things" program. You remember how I promised a rendezvous with the brownie? I KNEW there was a reason!
You'd figure that a place with Oprah Winfrey as a repeat customer might get a little star struck and lose touch with their roots. Not the case. If anything, it made their team stronger (like a high performance sports team, Matt says.) The team enjoyed a great level of success and continued to strengthen dish by dish. After 12 years at the helm, watching their dream and their team make a name for themselves, Matt and Kim turned over the reigns when they sold Moveable Feast to their employees.
Wilmington fell into Matt and Kim's sights after stand-up paddleboarding visits, and after they sold their restaurant, a life at the beach became a possibility on a permanent basis. They settled in quickly to their new home and community, taking in all the Port City has to offer, but returning the favor as well. In addition to SUP interests, they are the proud parents of a rescue dog and are huge advocates of animal adoption. They even feature available pets on order number placards customers bring to their table. More good vibes right there.
SPOONFED was born from a matter-of-fact statement. "Let's open a shop, she said, it'll be fun," Matt smiled. Well, before you know it, SPOONFED was a reality and in many ways, reminiscent of its predecessor back in Chicago, but even better. "I LOVE the various growing seasons down here," Matt said excitedly. "We didn't get that back there." He went on to talk about the relationships they've formed with local farmers for the freshest products possible, how they grind their own meat and sausage in house and how the harvest seasons for certain fruits and vegetables influence how their menu evolves.
I couldn't help but notice a steady flow of customers, but not in a "hurry up and eat" kind of way. People ate their meals but just hung out afterwards there because SPOONFED is the kind of place you WANT to hang out at. In an industry where table turnover is king, SPOONFED has a different mentality. "We're successful if we make people happy," Matt said. "People have busy, hectic schedules but that doesn't mean they can't have wholesome, delicious food actually made with love. We provide that and a place they can enjoy it in."
The place itself is as warm and inviting as the vibe that swirls throughout it. Describing how the place became what it is, Matt said, "Kim is the visionary and comes up with the ideas. I just try to figure out how to make it happen." Kim's background in art has heavy influence into the space in everything from the choice of colors, the artwork, the flow of customer movement, jeez even the way the color of the flowers on the tables matches the chairs is all Kim. But Matt's ingenuity plays a major role too. The wooden tables were actually handcrafted by Matt and his father from oak river wood harvested from the Cape Fear River. Now these resurrected majestic oaks have rejoined the community to serve wholesome, delicious food to everyone who steps in the door.
If you haven't gone to SPOONFED, don't put it off. Just go check the place out and enjoy the positive vibes that are in the air and on the plates. You'll be glad you did.
P.S.- Remember that "hook up" I had planned with the brownie? Oh yeah, it happened. I can totally see why Oprah put it on her "Favorite Things" show.
Check out the Spoonfed Kitchen and Bake Shop menu online and plan your visit for a bit of foodie heaven.
If you enjoyed Ed's Spoonfed Kitchen and Bake Shop review, do your fellow foodies a solid, and hit share.
Contributing blogger: Ed Walsh grew up in Las Vegas, the son of an accomplished chef. Traipsing all over the world to more than 35 countries during a 21 year Marine Corps career allowed Ed to sample and appreciate all types of food from grass hut family dining to Michelin star rated fine dining restaurants. "I know my way around a dinner plate and I just like what I like," he says. Asked what his absolute favorite dish from all of his international travels was, Ed quickly says it was his Mom's spaghetti. Ed is single, and loves long romantic walks to the taco truck. He also loves spending time with awesome food – almost as much as he enjoys spending time with his awesome kids.
---
---