Michelle Rock | Momma Rock's Dessert Cakes
Michelle Rock, Owner & Creator, Momma Rock's Dessert Cakes:
"I really love baking, and sweetening people up, and I really enjoy serving New Orleans food, with the socializing and freedom of a food truck."
Laissez les sweets roll
A coffee shop or bake shop works under the Department of Agriculture, and it's a whole different permitting structure from a food truck. Momma Rock's Dessert Cakes has the whole kitchen in the food truck. We took an RV and converted it into our kitchen… the bedroom, all the space we didn't need, we gutted it and put our equipment in there. It's a 32′ RV. Momma Rock's can roll wherever we need: private events, festivals, weddings.
Momma Rock's only does private events. We do sweets. That's it. We did the Wells Fargo PGA dinner event and fixed dessert for everyone. Momma Rock's takes a lot more time to plan and prepare than a food truck.
Mardi Gras time all the time
Anything you eat back home is Mardi Gras food. Po'boy sandwiches, which are French bread sandwiches – we order our bread from Leidenheimer Baking Company in New Orleans and have it shipped in weekly – French bread is lighter and airier and it has a little bit of crisp on the outside. The type of food we do is not as much Mardi Gras food as it is New Orleans food. Cooking there is about baking and cooking with what you have, what's in your pantry, and everything is almost based around rice. It's cheap and it's easy, that's where Creole cooking comes in.
I make the King Cakes for the Mardi Gras celebration at the Cotton Exchange. They order five, for about 200 people. And I do King Cakes for Waterline, and then for The Sour Barn. I'm doing the Fat Tuesday trivia questions for Sour Barn, too. There are a couple private parties doing big Mardi Gras celebrations as well.
Mardi Gras, Jan 6 Ash Wednesday to Feb 13 Fat Tuesday

Wilmington Events:

The Cotton Exchange – Mardi Gras family-friendly party, Sat Feb 10

Waterline Brewing – Party ending with Second Line March to Duck N Dive, Tues Feb 13

The Sour Barn – Fat Tuesday Trivia, Tues Feb 13

The Seasoned Gourmet – Mardi Gras dinner, Tues Feb 27
I just love to cook. Back home, cooking and dining is how you socialize. When we go out to eat dinner here, it often seems they want to rush you in and rush you out. Back home, it's a couple hour experience. That's the New Orleans experience. Having a food truck fits that sensibility really well, because people are sitting, drinking, and socializing. I enjoy meeting the people, fixing something for them to eat, talking, teaching them about the food, and customizing orders. Eating at a food truck is social experience in a different way than eating at a restaurant.
And the food truck, too, to go
A food truck like T'Geaux Boys, is easier than running Momma Rock's Dessert Cakes, because we come here to the kitchen, we plan, we prep, we pack it up and roll to wherever we need to go. I love educating people on New Orleans food.
Food trucks are really catching on in Wilmington. Two years ago there were only a few, now there are new ones starting up all the time. It's not really competitive, it's friendly. I spend a lot of time talking with our "food truck family nation" because there are so many festivals and events that we all have worked with each other. If I have to say no because I'm already booked up, I always say let me give you number of another food truck that might help you. If we are all successful, it will just keep growing. I don't ever want to be that person that says, nope can't do it, good luck. If the bottle shops and breweries needs to find a truck, my phone is usually going off. I'll always try to find someone. I want everyone to be successful.
Cooking with New Orleans sensibility
When I moved to Wilmington, it was a big culture shock.
I'm really connected with back home where I grew up. When you're from Louisiana, it doesn't matter where you end up living, you're always FROM Louisiana. The culture there is very diverse, and it's very deeply rooted into you. When I was a kid, I thought everyone knew what Mardi Gras is, and what a po'boy is. Everyday on the food truck, we meet people who have no idea what New Orleans food is.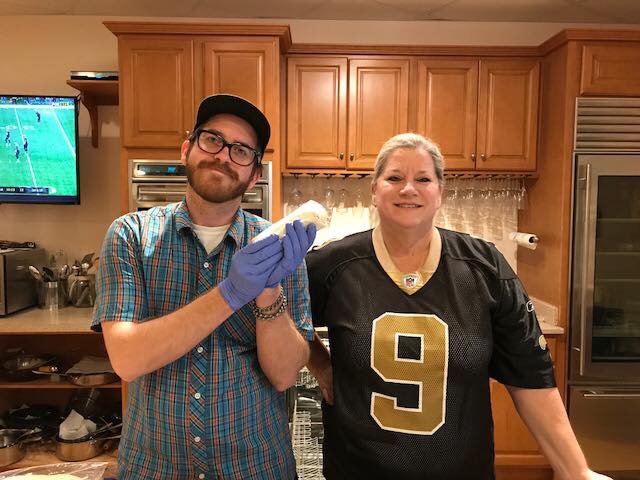 Growing up back home, you have to be into food. I started when I was ten years old, we'd get home from school and just get a cookbook out. I started out baking, and then it grew it into us making hundreds of sugar cookies every Christmas. That's kind of what catapulted Momma Rock's Desserts; I went from making hundreds of cookies, handmade, hand frosted, hand decorated, to making 5000 cookies. Those were orders and to pass out from the truck. We've had to cut back because both trucks are so time-consuming.
I'm happy. I get to say "yes" to what I want to do, and "no" to what I don't want to do. I came here to work at Clinique, ended up at Bennigan's doing a bit of everything and met my husband there, started T'Geaux and Momma Rock's and now we work the schedules we want to work. It's not a 9 to 5, it's the whole socializing of being around people and meeting people, from the window direct to the customer, you're just two feet away form the people who are ordering. You can customize and interact. Sometimes things we've created are from suggestions of the people who are eating our food. We enjoy our time there as much as the people are enjoying their time there.
Hop over and say Allons at
Momma Rock's Dessert Cakes on Facebook
Save
---
---