Brendan and Molly Curnyn | CheeseSmith Food Truck
Brendan Curnyn, CheeseSmith Food Truck:
"We did a lot of eating grilled cheese. We started to get sick of them, but after the first night out with the truck, we both wanted one. They are so good."
Molly: We've been in hospitality always. Waiting tables and working the kitchen, and then we started working on motor yachts. I was a cook, Brendan was a chef, and we also did lots of other jobs. It's like working at a floating hotel. We worked on private yachts, and did the food and drinks, and all that stuff.
Brendan: We would have a full-time job on a boat, or we would be doing freelance work. Molly would do gigs on huge boats where her job was to feed the crew, like if the boat was in Fort Lauderdale getting maintenance, and the owners weren't on it, but it still had a full crew.
Molly: Working on a food truck is very much the same thing as working a boat. It's power cords, the maintenance…
Brendan: … you're taking this truck, you're discounting shore power, taking it from point A to point B and then you're doing your service.
Molly: … and there's always something. Weather, power, food. I served dinner once on a boat when there was no power. You just learn how to deal with any problem that comes up. The grill doesn't work, so tonight I guess we are going to fry everything.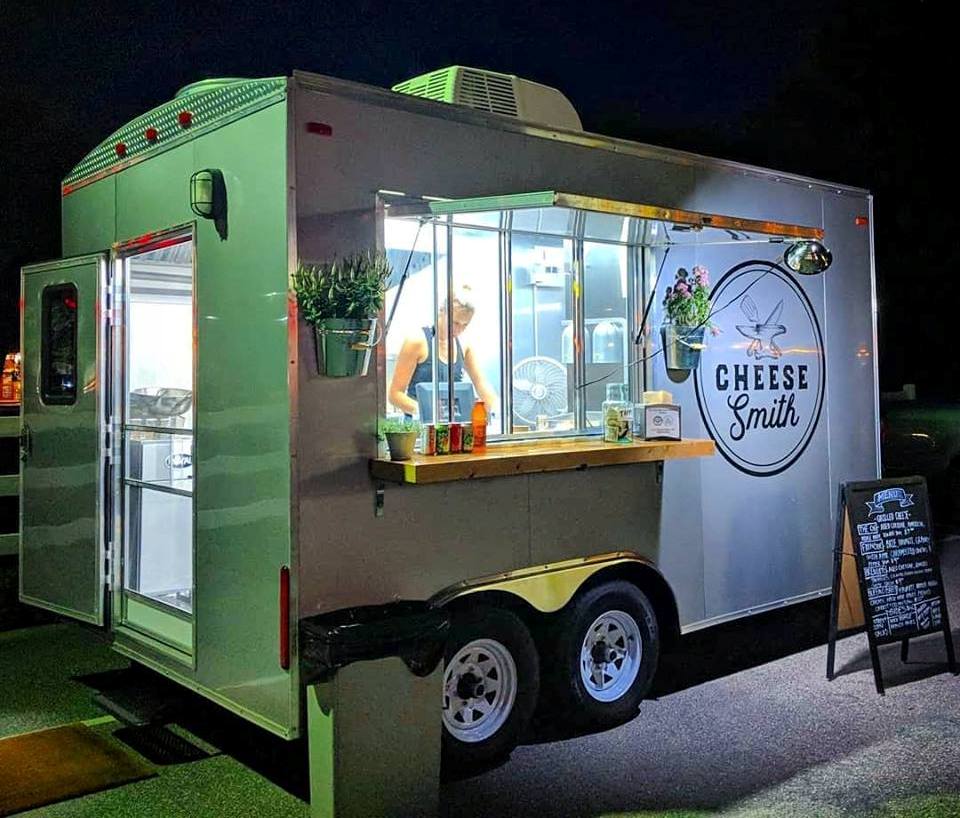 Brendan: Our first night at Sour Barn, we are working out all the kinks, and we have a 30 amp cord and we're plugged in, and we blow something, and I'm like don't turn that on yet, then , turn that off, and turn that on, but don't turn that on…
Molly: We've lived in Miami, Fort Lauderdale, and L.A., places where there are a lot of food trucks, and they are so successful. We watched what everyone was doing. And we were like, no one doens't like grilled cheese. You can do so much with it, too. You can load it up. I take an inspiration, like jalapeno poppers, and then translate it to a grilled cheese, going outside the box. I've got a huge list of ideas. We will do a Cuban, and a muffulata grilled cheese.
Brendan: It's bread and cheese, and whatever you want in between. It's such a good vessel for creative cooks.
Molly: We are going to be doing a lot of breweries, and we will be using their beer for beer-battered grilled cheese. For the most part, it's going to be the two of us, so we want to be able to say "Come back in five minutes," and do food service that fits with the brewery crowd.
Brendan: We decided to go with a trailer, not a big bread truck of something like that, because I know my truck if something goes wrong with it, and with a trailer, we also have double the room inside. We could get five people working in there. Half the battle was finding where to get it though. We did months and months of research. We got the biggest griddle we could get, a big condiment section, a huge refrigerator, and a 50 pound deep fryer. It's not that complicated.
Molly: We were investing our life savings, so we wanted it to be perfect. And we are both total clean freaks. We decided to buy a new trailer, and have it custom fit for the kind of cooking we planned on doing. We built is from scratch. We also have seen food trucks break down which is why we wanted to go with a trailer – they cancel for the night, and if you are at a brewery, there are lines of people who are let down. We wanted to plan in dependability. It's peace of mind to doing it all new.
Brendan: It's scary to think of doing a kitchen and your transmission blows. But if we have a truck problem, we can borrow truck and get the trailer where we need to be.
Molly: We prep sandwiches at the kitchen, so the only thing that is happening here is them going on the grill and melting. We wrap them in parchment paper, and everything is ready to go. We did a lot of testing, to make sure that they traveled well, and that the bread held up, and that everything was just the way we wanted to serve it.
Brendan: We are great friends with lots of brewers, we love beer. They all were telling us to book before we even had the trailer ready. We only had to reschedule two events. We got a little tied up with some trailer fittings, and the health department took a bit longer than we expected, just because they are so busy.
Molly: We hope we can bring people to places because we are there. We want people to come for the food, not just for the beer. We will be doing giveaways, and we're going to do special events. We want to do a changing menu, and do things for the seasons. We have so many different ideas. We will add things that aren't grilled cheese – things that are cheese, but outside of the bread. Maybe homemade pastas. We will see where it takes us. We are so excited.
Brendan: We came here two years ago, and we were really impressed with it. We are connected with the commissary kitchen of T'Geaux Boys, and Momma Rocks. She has been super supportive. She is an amazing person. We wouldn't be anywhere near where we are now without her help. Everyone in Wilmington is really helpful and collegial. There's a real community here, without being competitive. At the commissary, there are five food trucks working there, and we all really just support each other.
Molly: It's really different here from other places we've been. When we were researching food trucks in other cities, no one wanted to help us, or give us pointers. But here, everyone shares and wants to see you succeed. This community is really nice. Everyone is really helpful.
Brendan: People here really support small business. They want to see you make it. Even your competitors want you to do well. We love it here. We love making all the connections to get CheeseSmith running. Like we found the perfect bread for grilled cheese at Carolina Girls Grillin Cafe. We moved here and hit the ground running. We met people, we started a business, we bought a house.
Like CheeseSmith on Facebook for up-to-the-minute schedule and menu and find them online at CheeseSmith Co website
Save
---
---