Finding Love at Port City Sweetheart Market
We don't want to break your foodie heart, but, yes, it's over. The Port City Sweetheart Market had its day in the sun at Waterline Brewing. The crowds were out, the tastes were tested, and plenty of food lover gifts were purchased.
If you missed Jules Debord's love-filled Port City Sweetheart Market, take comfort in knowing that you can find these sweet food purveyors at another market, another day, another time. Or, of course, search for them online. Lots of love to you!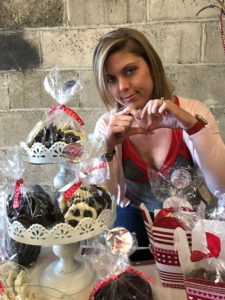 Dee Lee's Delights
https://www.deeleesdelights.com
All-natural hand-dipped chocolates. Winner of Best in Show for chocolate at the Wilmington Wine and Chocolate Festival!
Mommy's E-Z Baking
http://www.squareup.com/store/mommys
Cookie and brownie mixes (just add butter and egg), spice blends and rubs, dipping oils, and marinades.
Ghostal Carolina Pepper People
https://www.facebook.com/Millersgarden/
Artisanal hot sauces, jams, spices, and plants.
Our Mom's Best
http://www.ourmomsbest.com
Jellies, relishes, pestos and mustards made with North Carolina sourced produce using mom's, and grandmother's, recipes.
Art Factory Wine Bar
https://www.facebook.com/Art-Factory-Wine-Bar-1390597884314111/
Sourcing superlative North Carolina wines in an artful environment.
Photo credit: Flowers are available from Blossom Bay Botanicals.
Save
Save
Save
Save
---
---