Cat & Greg Marinich | Nothing Bundt Cakes
Five Minutes with Cat and Greg Marinich, Nothing Bundt Cakes:
"We're people-people, which you have to be in this business. It's crazy. I was a soldier, a teacher, a coach, and Cat was a teacher, and now we own a bakery. Who would've ever thunk that. It's what makes life fun."
Cat: I'm an elementary teacher and Greg was in the military. We moved around the world for 27 years – we've been out of the country more than we've been in it. Australia, Hawaii… I was
teaching school most of that time, as a substitute, so we were free to move around. We always knew that we wanted to do something on our own, and in Hawaii, I had the good fortune to work for an awesome little coffee shop on the beach, and Greg helped me a lot of times there in the early mornings. Then we really knew we wanted to something like that.
We thought it would be a coffee shop, or a wine bar, something of that nature. Greg retired out of Brussels, Belgium, and we both spent a bit of time teaching, and we had our eyes open for a business that we could start. A friend in Memphis opened a Nothing Bundt Cakes, and in conversation she suggested that we should look into it because there wasn't one in Wilmington. She was having a blast, working her butt off, but having so much fun. It's a happy business.
It's really what we're all about. It's about building relationships in the community, giving back to the community, being with people, all day long… making their day.
It's a phenomenal brand, and they are super supportive of all the owners. They have it figured out to a science. The model is easy to follow. It's a lot of work, but it's fun. Two best friends started Nothing Bundt Cakes out of their kitchen in Las Vegas. They started 20 years ago. They are still very hands-on, and do a serious vetting of franchise owners.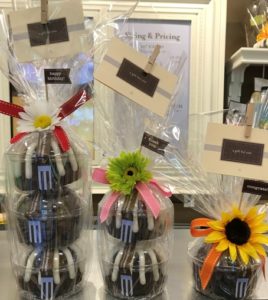 Cat: It's a real family-oriented franchise, which is what we wanted in our own bakery. We treat our employees like family, and everyone who comes in is treated like family, too. Whoever comes to the bakery gets to talking, and our customers talk to each other, and we are all talking, and we have fun.
I loved to cook before we opened our Nothing Bundt Cakes, but I was never a baker. We had a big learning curve in running the business, but not in the baking, because everything is so well planned, with the process, and the recipes. Consistency is hugely important. Now we really know how to bake. We come in and bake a lot, but we have hired bakers, too. We bake and frost fresh every day.
Greg: There is a big difference between cooking and baking. Baking is all precision. We mastered the business quickly.
Cat: I love all of our bundt cakes, but there are a couple of flavors when they come out of the oven: we'll sneak a buntini and share it – like this morning. My favorite flavors are Red Velvet and White Chocolate Raspberry. The Chocolate-Chocolate Chip and the Lemon are also top sellers. Our feature flavors are always popular. Right now it's Pumpkin Spice of course. In December, it will be Peppermint-Chocolate Chip – that one is amazing. We decorate bundt cakes for all occasions, all the sizes, and we have an entire book of designs and we do custom designs. That's a lot of fun for us.
Greg: If I had to put a number out there, I'd say that 15-20% of Wilmington knows about us after these first six months. It's spreading by wildfire with word-of-mouth. Right now, everything is really good, but if I can get 50% of Wilmington to know where we are and we can do, that's when things will be really, really good. We happy with where we are for a new bakery.
We're learning every day. We've probably experienced about everything you can experience when opening a new business. With the exception of a major hurricane… we were ready, though.
What's really neat is that both our boys work in the bakery. It's true that it's a family affair.
Cat: They wanted to be a part of it, so… they're 22 and 27, and they do their own thing, too, but they are definitely part of the bakery. They do all the positions. Our older son is actually baking here now.
Greg: We absolutely like working together. That's what we wanted to do. If comes with its challenges too, because the bakery is 24/7, at least in your head, and it's hard sometimes to separate that. You have to take a break and talk about other things. Every day and every week in the bakery presents new "news," and there are always things to talk about, and with our boys being involved, they have things they want to share with us, too. If we're sharing information, it's a good thing.
Cat: We do try hard to take breaks. "Ok, no bakery talk for the next two hours." Shut it off. We go to the beach, or do other things.
Greg: I've always been about doing different things. We're the sixth bakery in North Carolina, and the wave is big, and I think we've caught it at the right time. I see nothing but great things in the future, for our bakery, and for the franchise in general. The roll-out is well-managed – people are actually relocating to other cities to open one. We're having a great time.
Browse bakery goods, an extensive selection of beautiful giftware, seasonal specialties, and pre-order special occasion treats at Nothing Bundt Cakes Wilmington
Save
---
---