Jud Watkins | Wrightsville Beach Brewery
Five Minutes with Jud Watkins, Wrightsville Beach Brewery:
"We took a concept and said, "Let's do seafood that is as fresh as possible… you hear about 'farm to table,' we 100% do that, everything in the kitchen is local, and fresh. Then we take it a step further than that: we do 'farm-and-boat to table.""
That Seafood Theme Running Strong
My first restaurant job was at an old seafood restaurant, called Fathoms, here in town – it was where the Halligan's is now. I worked in the restaurant industry on and off for almost a decade. Through just
about every position, except for executive chef, so we have an executive chef here, to help me with that. Chef David Owens.
I grew up here. I left a few times, but Wilmington always pulls me back. I love Wilmington. I grew up on the water, surfing and fishing my whole life. It's the water that's pulling me back; I just love living on the coast. I love being in and on the water.
I had the relationships with local fishermen before I had this restaurant. I still have my commercial fishing license. We carry a fish dealer's license, that makes us a bit different. I can buy directly from other fisherman, so we eliminate one, two… even three different middlemen. Instead of the product going through a centralized facility away from the coast, being processed, and then coming back to the coast, I literally have fishermen pull up to the back door of the kitchen, we weigh it in here, and all I ask is that the fish is gutted before it comes here, and then we buy the whole fish.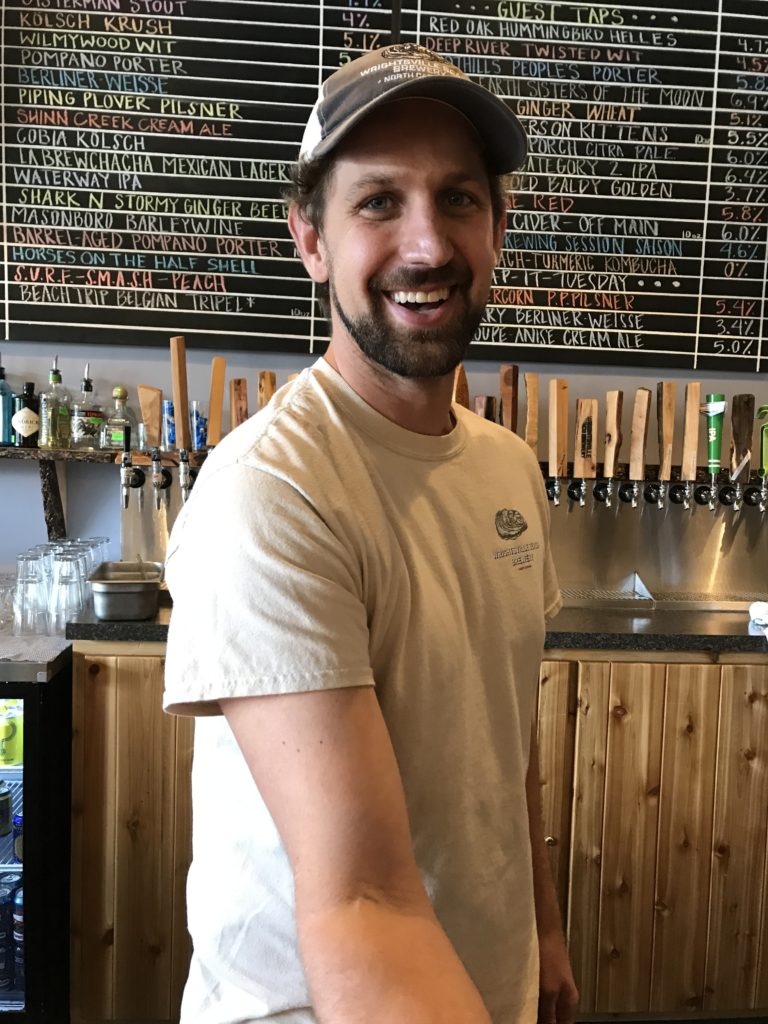 All About Those Oysters
In particular, I work really hard to find quality oysters – I especially take pride in our oysters. I love oystering, too, I grew up doing it. It's something that my dad and I did together. I love oysters. My favorite way to do oysters is – there's really no wrong way to eat oysters – but my favorite way to do them is, in the early season, a nice steamed oyster. And when it gets into the colder months, and you get less and less rainfall, I love a good straight raw oyster. I don't put anything on them. Our oysters here are so deliciously salty… they are just like a shot of the ocean. I like them just straight up. We do them other ways here, too. We make our own hot sauce. We did a really cool one the other day with a house-made pesto that was great was raw oysters. Another way that I like them is what we call the "Redneck Rockefeller:" a baked oyster, with local collards and pimento cheese.
We the peak season we were going through from three to five bushels a day, and that's when we first opened. If we had a private event, we did more than that… we do a ton of oysters. We can do as many as the cooler will hold.
For fish, I love sheepshead, local triggerfish, and one that is pretty unique to us here is African pompano – that one is really hard to catch on a hook and line, same as sheepshead, so I count on my suppliers who do spearfishing. That is really local to here in Wilmington. Another one we are starting to see more here is hogfish.
Pairing Beer and Seafood
I'm a dark beer fan. I love a dark beer with oysters. Most craft brewers lean more to the hoppy stuff, which we brew too, but we do a little bit of everything. I can go through a list and tell you beers and the seafood that they compliment. We make a point of telling our servers what to recommend. Like today, we've got black drum tacos with fresh-made pico de gallo that's got watermelon, local tomatoes, and cucumber – that's a great light fish taco and it goes really well with our Wilmywood Wit, that's a citrusy beer. Go light and light. Or you could contrast – like the malty beer and a salty oyster.
We have a full bar, and wine, here too, for people who don't drink beer.
Making Time for the Water
I'm so busy. I make a point to go oystering once a week when it's oyster season, just to stay sane. I maybe go fishing once a month now; I'm a spearfisher. We've been so busy this summer that the fishing has been tough.
I've been working on this brewery and restaurant concept for more than a decade. It's an idea that my dad and I had. We had been home brewing together, and our plan was for me to do the oyster-restaurant and him to do the brewery. He passed away five years ago, but it was too good of an idea to let it go. Realistically it took four years to come up with the plan, and then a year to do the build-out. This is our first summer open, and it's what I hoped it would be. We're serving more than 30 species of fish, which is really awesome.
We have a killer kitchen staff, some guys who are really good at breaking down the fish that comes in. Everything is filleted in-house. Every meal is as fresh as possible, and we're going to get you the best price possible. I really want to be able to offer a great fresh fish meal and a good beer for $20 or less. I think we're one of the only places in town that can say that. We've never frozen a fish here. Not a single piece of frozen fish.
Shrimp is a bit tougher – we can go through more than 100 pounds of fresh shrimp before a week is over. We do shrimp and grits, shrimp and grits pizza, shrimp po' boy… and fresh shrimp is really only available in those quantities for three or four months and that's reasonable. If we have to use frozen shrimp, it's only ever North Carolina shrimp. It's hard to tell the difference between fresh and frozen shrimp, but I promise you, I can tell the difference between imported shrimp, even Gulf Coast shrimp, and our North Carolina Shrimp. Japan, or Thailand, I'll be able to tell you.
Kudos to the Crew
I have a great crew at Wrightsville Beach Brewery. There is Chef Owens in the kitchen, managers who do a great job with the front of the house, and great bartending staff. Kevin is our director of brewing operations and he has a long history of professional brewing. Kevin Zelnio actually has a marine biology background, which is an interesting connection. Kevin used to work for the UNCW marine lab, and the Duke Center for Marine Science. He left a career in science to be a brewmaster.
I cook a little, and I help with concept development. At the end of the day, though, I trust our kitchen staff. We have a great saute chef. And I trust our sous chefs… they are much more capable in the kitchen than I am. I cook at home. I'll do on fish on the grill. I am a meat eater too, although I love seafood; my wife is a pescatarian. She's from Greensboro and thought that it would be difficult to live with a meat eater, but we work it out. It's so easy to just eat seafood here.
But what's in the fridge at home? Mostly beer.
Go Big or Go Home
We're about 10,000 square foot here. About half of that is the brewery. That takes up a lot of space, with the tank, and the storage system, because you have to keep everything cold. We're having a lot of fun. When we first started, I was exhausted. It looked like I had two black eyes, but it's getting better. We push ourselves to do better every day. It's never going to be easy, starting every day early, calling three or four fishermen isn't the easy way to do it. It's way easier to just go online and order from one of the major food purveyors – you just tick off a list. But, we don't do that. We want to get the fish in at 3 in the afternoon and serve it for dinner at six. That's worth the work. I don't want my fish to last 2-3 days.
What's Up Next for Wrightsville Beach Brewery
We're breaking into the aged beer scene. We've got some first generation barrels from Jim Beam and Maker's Mark, and just starting to put our beers into those barrels. We started canning last month, so that's brand new to us. We're having a lot of fun with that.
Then, we've got a new concept for oysters. I'm going to keep that a secret. This fall, we'll unveil that. I don't think anybody in town has every seen this before. It's going to revolutionize oysters here in town.
Take Note! Wrightsville Beach Brewery is the recipient of the 2017 Wilmington Tree Award. Enjoy a beer under one of the beautiful live oaks that were carefully preserved during construction. And appreciate the sense of reuse-repurpose-recycle that went into the interior: the bar of leftover roof sheeting, tabletops from trees cut down on the property, and barstools made from delivery pallet wood.

Look for the oyster shell logo. Visit
Wrightsville Beach Brewery online.
---
Love breweries for food and beer? Find more restaurants like Wrightsville Beach Brewery.
Save
---
---