Dram + Morsel: the Foodie Go-To for Small Bites, Drinks, and Tastes
For some strange reason, my friends think that just because I like to strap on the feed bag at some of Wilmington's best eateries, I must have an "inside scoop" on where to go as if it's some kind of secret.
This restaurant has temporarily closed; check with the establishment to see if they have reopened at this time. Please enjoy this article on part of Port City dining history!
I quickly remind them that although I can appreciate "fancy pants" dining, I'm much more of a low-key food dude. I like good food no matter what it is, I take photos of it, and scribble some words to describe the experience for the one or two people who might actually read what I write.
Maybe the experience is at a place with a nice crisp table cloth, candles, and more forks than I know what to do with, or maybe it's a place on four wheels serving up bits of heaven wrapped in tortillas that actually drives away at the end of the night. My point is that I just like food of all kinds and if my friends
are looking for good places to go I can only tell them my opinion. Well, it seems to always come up when my buddies are trying to go on a first date to impress a girl, or maybe a group of friends are looking for something different and laid back, there once was a friend who wanted a cool place to take her girlfriends to for a bachelorette party, and of course my food friends who just like darned good food.
Regardless of the occasion, one place always makes my recommendation list for those events and more: Dram + Morsel.
Look up the word "dram" and you'll see that it's a "small drink of whiskey or other spirits" and if you do the same for the word "morsel" you'll find that it's a "small bite or piece of food." If you look on Front Street, you'll find that it's the name of one of the coolest restaurants in Wilmington that you might not have even known was there.
True to the definitions, Dram + Morsel restaurant specializes in "small bites" which allows for great conversation in their very cool, hip space. Old wooden floors and brick walls accentuated with art lend way to arguably one of the coolest bars around. The small tables, couches and a grand dining table that seats 16 allow for great conversation either between large groups of friends or couples out for date night. Either way, it's a great place to go and if for some strange reason you haven't gone there yet, you need to go. Now.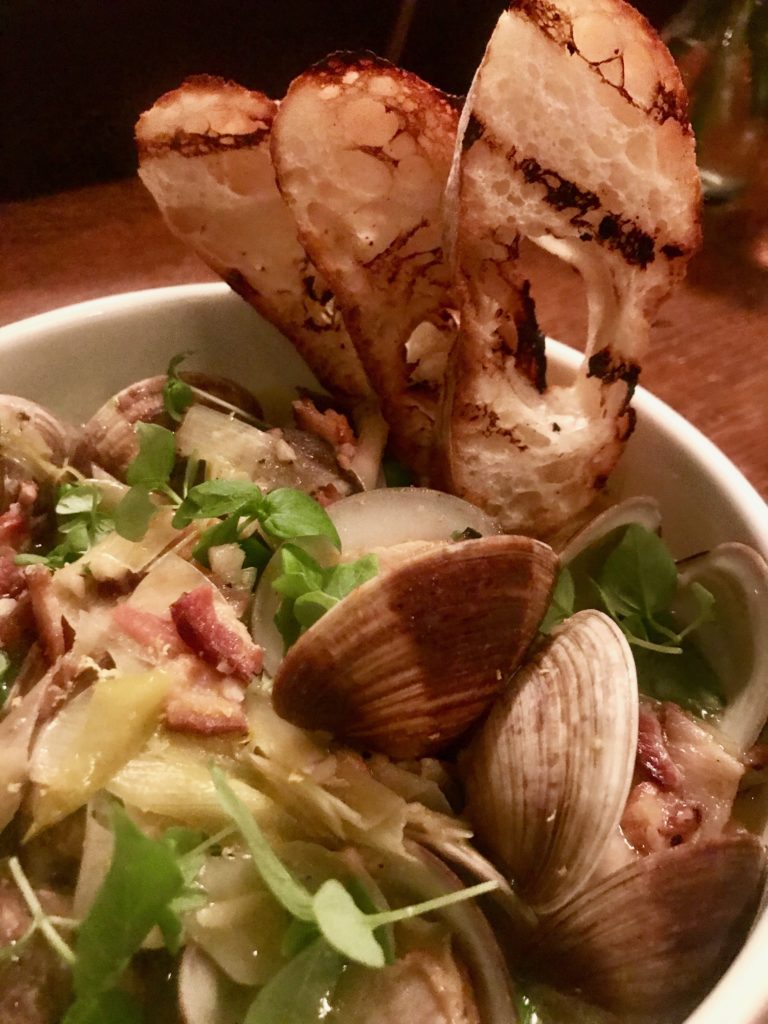 I frequently wander in to places that catch my eye and just hold on for the ride. Dram + Morsel restaurant is somewhere you don't just wander in to, but you'll be glad you made the journey up the stairs above the Husk and Yosake because once you step foot in there you'll wonder why the heck you never went there before. After your first bite, you'll feel the same.
The dishes are every bit as beautiful as they are delicious and because they're small bites, you and your group of any size can set out a cornucopia of dishes for everyone to enjoy. (Warning: You might not be able to understand what's being said because "oooh" and "oh, that's so good" will be the majority of conversation but that's not a bad thing.)
I've loved Dram + Morsel since I went there for the first time many moons ago and this visit, true to form, was every bit as awesome as the previous ones. The food was absolutely amazing, the service was a template of what friendly, professional service SHOULD be, the ambiance was spot on… and did I mention the food was amazing? Well I'm gonna say it again. It was amazing.
With so many restaurants in Wilmington and the number seemingly growing by the day, Dram + Morsel has been around for quite a while and with good reason. They're doing great food, great drinks, great service, and something apart from "all the others" that you'll really enjoy. Make plans for you and your special someone, or with that group of friends that you keep meaning to link up with, and meet at Dram + Morsel. You'll be glad you did.
Contributing blogger: Ed Walsh grew up in Las Vegas, the son of an accomplished chef. Traipsing all over the world to more than 35 countries during a 21 year Marine Corps career allowed Ed to sample and appreciate all types of food from grass hut family dining to Michelin star rated fine dining restaurants. "I know my way around a dinner plate and I just like what I like," he says. Asked what his absolute favorite dish from all of his international travels was, Ed quickly says it was his Mom's spaghetti. Ed is single, and loves long romantic walks to the taco truck. He also loves spending time with awesome food – almost as much as he enjoys spending time with his awesome kids.
---
---