Doug and Susan Zucker, Owners | Bridgewater Wines
Five Minutes with Doug and Susan Zucker, Bridgewater Wines:
"Our slogan is 'Explore the World, One Wine at a Time,' and we really want people to come in here and discover something new, have a great experience, and learn about different wines."
Doug: I worked for many years for Stew Leonard's, which started as a gourmet food store in Connecticut and then expanded into New York and New Jersey. I started bagging groceries there in high school, and then came back after college. I switched over to selling wine as we started opening wine stores. The last 15 years, I directed operations for the nine wine stores that Stew Leonard opened – I opened seven of those stores from the ground up. I have plenty of wine background!
Susan: It was a challenge opening Bridgewater Wines, but it was also easy because Doug has all that experience from the marketing, to the wines. And all the relationships around the world, with the producers and the distributors.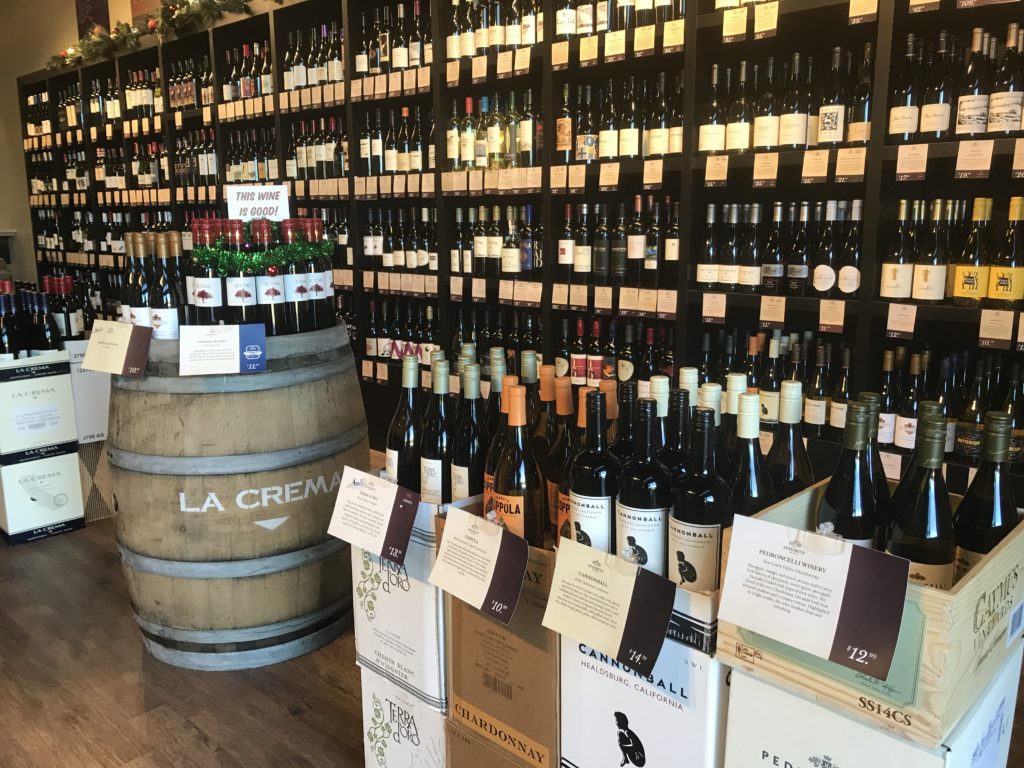 Doug: Being with a larger profile wine seller, I was fortunate to travel around the world, and to meet great people who came to New York to see us at Stew's. Susan and I have a lot of personal contacts, and a lot of the wines that we have here are people that I know personally, and I've been to their state, and had dinner with them and their families. I really do have a personal connection with a lot of these bottles. It's fun.
Susan: One of the big things that we pride ourselves on, are the little gems that a lot of people don't know about, and Doug found them because of those relationships with people in the industry.
Doug: Anyone who comes in here will find something different. We put a lot of effort into making it comfortable, not just for the oenophiles, but for people who just want a nice $10 bottle – something that they are not going to find at the supermarket. We knew we were going to do this when we moved to North Carolina a year and a half ago.
Susan: We are very lucky in North Carolina because we can do the retail store piece and the wine bar piece. We can blend the two. With Doug's expertise in the wine, and I taught culinary at the university and high school levels, Bridgewater Wines just married the two passions together. The wine tastings come as a form of education to our customers – our guests – the best way to learn is to come in and taste, and learn. We want people to come back to buy something that they loved. We want people to have a great experience here.
Hostess gift: Sparkling. Absolutely, give bubbles.

Christmas dinner: With a roast or filet, go with a Cabernet or a Bordeaux, something richer. With a Christmas ham, try a Pinot Noir or a good Beaujolais.

Favorite right now: Whatever is in the glass when we get home at 10pm. Susan is a sparkly person. Doug is currently a big fan of Washington State wines.
Doug: People really don't have to buy when they come in to taste. We've had as many as 300 people in and out during a tasting. They become our friends, and they come back when they are looking for something specific, or when they want to have another fun experience. Before we opened, we put a sneak peak on Facebook, and it really drove a lot of immediate audience.
Susan: At the wine bar, people can come in and buy wine by the glass, and we offer a nice selection of appetizers that go well with our wines. We will answer questions about different styles of wines, and talk about pairings, and familiarize people with some of the esoteric wines.
Find Bridgewater Wines online, or stop in and enjoy the friendly selection, open Monday-Sunday at 10am, close times vary.
---
---