April Sussman, Owner | The Veggie Wagon
Five Minutes with April Sussman, The Veggie Wagon:
"The Veggie Wagon is really what people want to make it: coffee shop, grocery store, produce stand. We're committed to being the place both locals and visitors can find local North Carolina products to support our farmers and small businesses."
Staking Out Their Corner

Veggie Wagon started as a 10′ x 10′ tent, actually where our current stand is, right when the Farmers' Market started, a little over ten years ago. After a couple years, we expanded into the brick-and-mortar store, and grew what we offer.
Veggie Wagon was always about the food. We came from Virginia Beach and Raleigh, originally, and we were always surrounded by really good quality food and produce. Our farmers' markets were great back in Virginia Beach. We've always appreciated good quality produce and we thought this would be a good way to help farmers in the local communities here. We wanted to help put some money in their pockets and get what they are growing to our neighbors.
At that point, in Carolina Beach, there were only a few restaurants here, and they weren't open in the off-season. We figured we would at least do what we could during season to sell residents and visitors good quality tomatoes, and cucumbers, and melons, everything that local farmers always grow, and build everyone's business. That's how we started.
Vegetable Stand, Deli, Grocery, Wine Shop, Natural Food Store, Coffee Shop, Ice Cream Stand…
We get a little bit of every kind of shopper. People will stop in and stock up on food for the week. And then we'll see people many times during the day, too. They will stop by for coffee in the morning. Then they'll pop in and get a sandwich and chips. And later in the day, they may grab some dips and spreads for entertaining or for a snack on the beach. We don't carry paper goods, obviously, because we don't have space for that.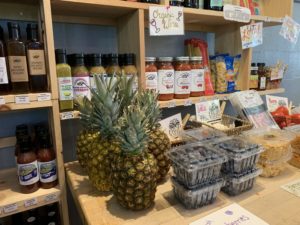 Bread Baking and Sausage Making
We are grinding all of our meat in-house, and we make all of our own burgers now, and for our products that we put meat in – the sausages and everything. Our production facility is just a little bit away from the store, in Carolina Beach also, and we do all of our food production there. We have a meat room, and an ice cream room, there. And more. It's a complete facility.
Veggie Wagon bakes all our own breads and cookies in house. About 98% of you see is food that we produce. We make our own marinara sauces, and our own barbeque sauces. We work with a lot of small farms for local and organic produce; I go to pick up blueberries every week in season. We have lots of things delivered, from local eggs to vegetables, and we try to work with what's available and create our branded products from that. We try to cycle it depending upon what we are getting locally. We make the majority of what our customer see on the shelves.
Living the Foodie Life at the Beach
My favorite Veggie Wagon products really depend upon my mood. We cook a lot at home. We do a lot of grilling, it's really island-lifestyle-friendly. We live on Carolina Beach, and work here, and we really locals: I can ride my bike to work. This is our place. I wouldn't trade it for anything else. It's a very special place to be.
Max and I both have food service backgrounds. I used to do front of the house things, and Max ran kitchens. And loved working in kitchens. We've both done a little bit of everything. Now between the store here, and the one at Masonboro Loop, we are either busy or cooking at home and hanging out in the yard. We make sushi at home. We make a lot of fresh salads. We do a lot of our test cooking at home too, creating recipes and getting our friends' opinions on them. In the off season we do a lot of that. That's how we perfected our Mexican casserole that everyone loves. We did both a vegetarian and a beef version, that our friends gave tons of input on.
Fitting Into the Neighborhood
The Veggie Wagon's other location, in Masonboro Loop has a completely different vibe. It's only ten to fifteen minutes from Carolina Beach, but they have lots of full-time residents, and it's more neighborhoods, so it feels very different. That store has tables and chairs, and it's a real cool little community over there. The surrounding communities that help support us over there are very loyal.
It's not the island, though. People don't come in barefoot, and in bathing suits, and with wet towels. It is it's own world, just like the store in Carolina Beach is.
We have a ton of locals in Carolina Beach, and we see them year round. The population fluctuates so much during the summer time, here, that every week is different. It's fun, and it's a challenge.
The Veggie Wagon stores are enough for us right now. We really don't know what's next. I think that opportunities kind of find you. We are really content with where we are right now.
Visit The Veggie Wagon in Carolina Beach at 608 S. Lake Park Boulevard, and in Wilmington at 3315 Masonboro Loop Road. You can find The Veggie Wagon is on Facebook, and at The Veggie Wagon website.
---
---