Smoked Carrot Lox: your new favorite brunch
What is your favorite brunch dish? And no, mimosas don't count.
I absolutely love smoked salmon, also known as lox, piled high on a bagel with lots of red onion, cream cheese, and dill. Whenever I went out to brunch I looked over the menu to see if they offered my favorite dish.
After I transitioned to a plant-based diet I had a tearful moment of silence for all the smoked salmon I would never eat again.
One day, I stumbled upon a recipe for smoked carrot lox. It was at a swanky restaurant in Los Angeles and the reviews claimed the carrots looked and tasted just like smoked salmon. However, the recipe was wildly complicated, used ingredients I had never heard of, and needed to marinate for about three days. I mean… who knows they're having brunch three days in advance?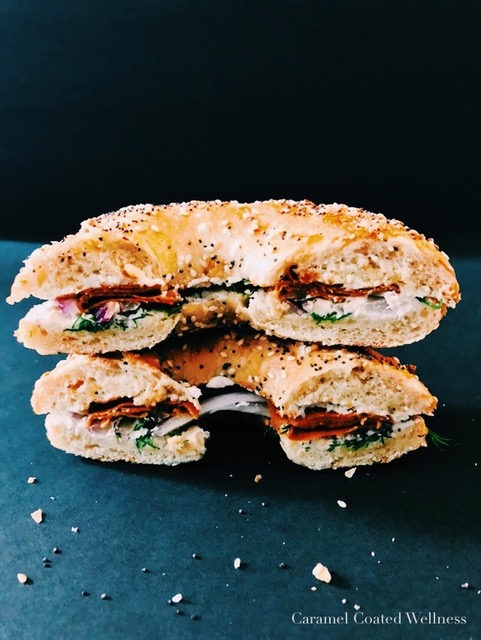 The smoked carrot lox recipe I developed only needs to be marinated overnight, requires one bowl, one baking sheet, and all of the ingredients needed can all be found in your average grocery store. It doesn't get much easier than that. Happy Brunching!
Preparation Time: 8 Hours
Cook Time: 15 Minutes
Servings: 6
• 2-3 Carrots
• One Sheet of Nori
• 1 1/2 Tablespoon Soy Sauce
• 1/4 Cup Liquid Smoke
• 1 Teaspoon Apple Cider Vinegar
• 1 Teaspoon Old Bay Seasoning
• 1 Teaspoon Maple Syrup
• Optional Toppings: Red Onion, Vegan Cream Cheese, Dill, Capers
Use a vegetable peeler to thinly slice the carrots into long, thin ribbons. Lay flat on a large baking sheet. It is perfectly fine if the carrot ribbons overlap in order to fit on the baking sheet.
Mix together the soy sauce, liquid smoke, apple cider vinegar, old bay seasoning, and maple syrup in a small bowl. Chop up the sheet of nori into small pieces and add to the marinade.
Pour the marinade over the sliced carrots, cover with plastic wrap or aluminum foil, and refrigerate overnight.
Preheat the oven to 350 degrees.
Tightly cover the baking sheet with aluminum foil (don't forget to remove the plastic wrap!) and bake for 15 minutes. Let cool completely before serving.
Serve your smoked carrot lox with a variety of bagels, cream cheese or vegan cream cheese, red onions, capers, and fresh dill. Everyone will love this addition to the brunch buffet!
About the contributor:
Olivia Parr is the founder of Caramel Coated Wellness, a whole-food, plant-based food blog and personal chef business based in North Carolina. After reading Food Over Medicine and The China Study, she decided to get more serious about her interest in helping people overcome health issues with plant-based food. Olivia graduated from the T. Colin Campbell Center for Nutrition Studies with a certificate in Plant Based Nutrition. Visit her website at Caramel Coated Wellness or follow her on Instagram @CaramelCoatedWellness for whole-food, plant-based, and oil-free recipes.
Save
Save
Save
Save
Save
---
---