Dave Wishon, Owner | Parchies Barbeque
Five Minutes with Dave Wishon, Parchies:
"They told me I'd never make it, because nobody ever could. If they had told me I would be a big success, I'd probably have failed – that was my motivation."
This restaurant has closed. Please enjoy this article on part of Port City dining history!

Order Barbeque, Breakfast, and a Side of History at Parchies
Fan of Home Town Restaurants and UNCW Athletics
It's Parchies Barbeque on the side of the building; I do a lot of catering in town, that's our main business, the barbeque and fried chicken. I do lots of events at UNCW. I give about $10,000 a year to UNCW. I was an athlete but not at the university, I never went on to school there.
I started in the restaurant business when I was 12, with a man named Rex Ballard on Market Street, back in 1969. I had eight
brothers and sisters, so my daddy got us all jobs washing dishes or doing something in a restaurant so we could get something to eat and help out with the bills. I just kind of stayed in it, the only one out of us… my three older brothers were in the restaurant business, but they went on to college, and I stayed in the business.
We started Empie Park Concessions in 1972. We were at Empie Park from '72 to '99. My father retired from General Electric in '88 and he's the one who got Greenfield Lake back up there: paddle boats rented, and canoes rented, and the concession stand. That's what he did after he retired in '88 to '98, and he did that until my mother got sick and he had to give it up.
If It's Not Broke, Don't Fix It
I opened Parchies Barbeque up and my mother ran the register here until she passed away. I've had a couple other locations, but they were more for investment opportunities, to get them and lease them. You think I've seen a lot of changes? I grew up downtown, with eight brothers and sisters, in the 60s, downtown. That's when everybody was moving out of downtown, during the turbulence, and MLK, and all that. Parchies Barbeque has history here. Parchies has been here for 35 years.
I've added a few things to the menu over the years, and took a few things off. I don't do change. I use it until it wears out. Then I replace it. It's amazing, people come in and order the same thing, year after year, 90% of the time they want what they know. It's been a good run here. Thursday is fried chicken day. We serve breakfast every day: grit floats, egg sandwiches, the food people want to eat.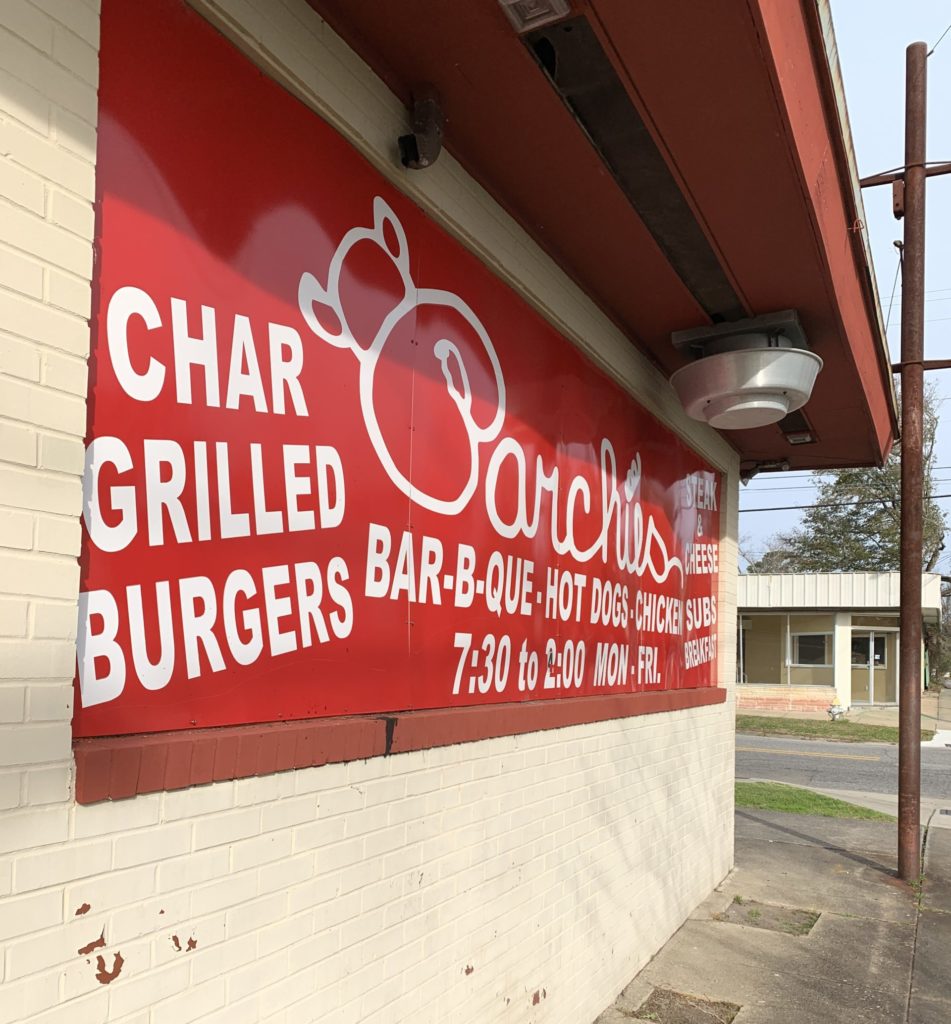 I eat more burgers than anything, because it's quick and easy. I'm a breakfast person. A float – grits with your choice of mix-ins, including bacon, cheese, sausage, eggs – every morning. A big piece of chicken on Thursdays – that's the only day we do fried chicken in the restaurant. But I've had my share of it all. I cook basically the same stuff at home, but I really like Italian food. I like eggplant, veal, and stuff like that.
When Your Name is On It, You Make It Work: Staying Power
There were three or four people who tried to make the restaurant run here before me. The guy I bought the building from, had given me a four-year lease. I had worked at about every restaurant in town. No one thought I could make this one a success, and everyone thinking that I would fail was my motivation to make it succeed. I'd go out front and my name was on the sign, and I knew I could do it.
When this place came available, all the windows were knocked out, the roof was in bad shape, it was almost to the end. We came in here, and bought the equipment – before it had been leased. One guy who had been in here before me had one of the most successful restaurants at the time, it was David's Deli. He was probably doing a million dollars a year. But he didn't last here, and it went downhill.
Stick Around Long Enough and It Will Become Retro
We've always had a niche following. You can come in here and find just about anyone. Someone who just got out of jail, to lawyers, and judges, and doctors. Every genre of people come in here. Everybody gets along. I've never had any trouble; people say, "Aren't you worried," especially back when we first opened it was a little rough over here. There is only 2% of the rough, though, and 98% is good. And when you give good, that's what you get.
I could have gone anywhere in town and probably been more successful, but it wouldn't have been a challenge. I've had two parking spots for 25 years. I didn't take credit cards for 22 years. No website. I never advertise. Unless someone posts something about me, I don't do any of that – I don't have a Facebook dedicated Parchies page. It probably hurts me, but I'm just not into all that.
I say don't take time off to tweet, sit down and eat. Get off your phones. People are on their phones too much. People come in and sit down and they eat and stare at their phones and they leave – they never say a word to each other. I think it's ruining our society. They need to have a meal with each other and talk.
If you call it a diner, you are probably showing your Northeast roots, but Parchies qualifies as that, and more… a barbeque joint, lunch spot, breakfast counter, caterer. You won't find Parchies on Facebook or the web, so you'll have to stop in person, put down your phone, and enjoy a meal that will beat those fast food places and breakfast chains any day. You can also call ahead and pick up breakfast or lunch to go.

---
---