In search of… The Best Shrimp and Grits in Wilmington NC
The search for the best shrimp and grits in Wilmington NC starts with an appreciation of the history of the dish.
Think morning, hours before the sun rises. Crews of local shrimpers, headed out for a hard day at sea.
Shrimp and grits, according to culinary legend, was first enjoyed as a fisherman's breakfast. Combine the day's catch and a warm, stick-to-your ribs staple like grits: shrimp and grits. Of course.
The simplest preparation is to saute fresh shrimp in butter with Low Country boil seasoning: peppercorns, coriander seeds, thyme, parsley, cayenne, tarragon, bay leaves and celery. Ladle the fragrant shrimp over creamy, stone-ground grits. The goal is to serve up a breakfast that will get a shrimper through the day.
New Southern renditions of shrimp and grits include the addition of everything from tomatoes and bacon, to mushrooms and white wine gravy. But always, the superstars of the dish must be the shrimp and the grits.
In search of Wilmington's Best: Seven Shrimp and Grits in Seven Days
Every Wilmington foodie has a ready list of the best shrimp and grits on local menus. Well, mine was not yet thoughtfully developed. I decided to do a little investigative dining, hitting seven restaurants in seven days, taking pics and eating my way through seven variations of my favorite dish.
With a quick and admittedly unscientific poll of 120 foodies in the Facebook group "Should I Eat There – Wilmington," I put together a list of the top seven shrimp and grits, in the order of most recommendations received: Cape Fear Seafood, Bon Appetit, Dixie Grill, Cast Iron Kitchen, Catch, Pilot House, and Felix Cafe.
Day 1. I was off and eating. First stop, setting the bar very high, Cape Fear Seafood Company for dinner, and a heady combination of shrimp and spices in a rich cream sauce. This version benefits from the addition of applewood bacon, tomatoes, AMAZING mushrooms and scallions. Of course, not just grits, at the foundation of this dish, but cheese grits. Divine.
Cape Fear Seafood Company: shrimp and grits
with low country cream sauce
Day 2. Breakfast at The Dixie Grill, for cheese grits topped with crisp bacon, gorgeous large shrimp, Roma tomatoes, an egg over-easy, and a huge homemade biscuit, because of course, you need to fill up. As far as interpretations of shrimp and grits go, this feels stridently faithful to the origin of the dish. It's hearty breakfast food, not fancy, seriously good and solidly wholesome. This is the kind of meal that can get you through the day. If you are thinking shrimp that has to shine and grits that have to shine, note that the balance here is perfect, and this version has well-matched co-stars.
The Dixie Grill: shrimp and cheesy grits with
an egg over easy and biscuit
Day 3. I headed up Market Street for a solo lunch at Cast Iron Kitchen. Their version of shrimp and grits is what many aficionados describe as "wet" – served with gravy. In this case, a hugely generous serving of red eye gravy over grits and tomato cream sauce. It is delicious, heavily endowed with sweet onions and smoked sausage. The grits in Cast Iron's version are "loose," and work in a way that is very similar to what rice does for a bowl of gumbo. Actually, this dish is slipping happily in the direction of a gumbo.
Cast Iron Kitchen: shrimp and grits with red eye gravy
Day 4. Feeling brave, I opted for another solo lunch, starting to feel like this was an assignment of huge investigative proportions. And thinking that if I made it through four in a row, I would be more than half way to accomplishing "7 Shrimp and Grits in 7 Days." Pilot House is a nice spot for a single diner, and lunch on the river is always lovely. The Pilot House version of shrimp and grits serves up lemony shrimp on top of a nicely fried, triangular grit cake, and a good portion of tender collard greens as a side. I love collards, and they are the highlight of this dish.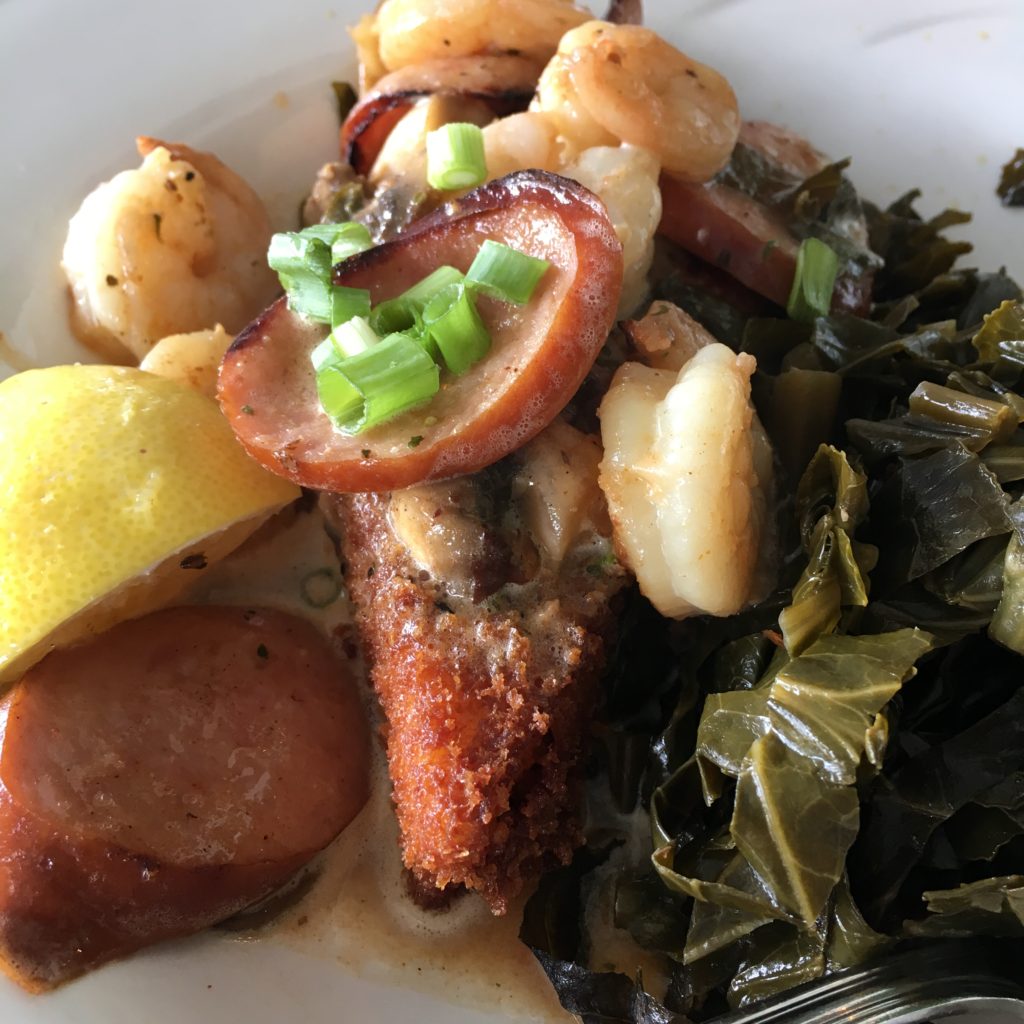 Pilot House: shrimp and grits with kielbasa sausage,
mushrooms, fried grits cake and collards
Day 5. Lunch at The Felix Cafe, and a sublime offering with a serious twist on the shrimp and grits theme. This is what results when a talented chef takes a traditional dish and infuses it with personality and his signature "island flair." Eight gorgeous bacon-wrapped shrimp on skewers, perfectly grilled and arranged over two fried grit cakes. Add a Tasso ham cream sauce. Divine. Add this to your must-try list if you are a shrimp and grit loving foodie.
The Felix Cafe: bacon-wrapped shrimp over grit cakes with
Tasso ham cream sauce
Day 6. I'm not done yet, and head to dinner at Catch. The "Gullah" style shrimp and grits is interesting, and definitely different. Reports are that the shrimp and grits preparation here is often changed up. Whole corn kernels with the grits on this night was an interesting spin, like adding whole corn to your cornbread recipe. I liked it. At this point, on day six, a little bit of "different" in the shrimp and grits tour was welcome.
Catch: shrimp and grits "Gullah" style
Day 7. Commitment. Breakfast, day seven, almost done. This made it a true, full throttle taste test of Wilmington local foodies' best shrimp and grits recommendations. I met a friend at Bon Appetit for the richest, most satisfying bowl of shrimp and grits of the adventure. I couldn't even come close to finishing it, but it made excellent leftovers. This is "loaded" shrimp and grits; loaded with cheese, loaded with butter, loaded with tasty little shrimp and loaded with bacon. Add loads of white wine cream sauce, just because you need it. They bill this dish as the "Eastern Seaboard's Best Shrimp and Grits." Pretty damn close.
Bon Appetit: shrimp, bacon, mushrooms and tomato in white
wine cream sauce served over cheddar cheese and stone ground grits
I'm sure we missed someone's choice for the best shrimp and grits in Wilmington NC. Leave a comment, add a quick review, let us know which you love. And if you say "my place," we are accepting invitations.
---
---