In Search of… The Best Bloody Mary in Wilmington NC
The Bloody Mary drink is known as the "morning cocktail," with a mix of tomato juice, hot sauce, spices, and a little splash of this and that — with vodka, of course.
Considered one of the most complex cocktails, Bloody Marys offer a range of flavors, from salty to sweet, sour, and spicy. Over time, recipes have become widely varied, as I found out on my journey to taste test the best Bloody Marys in the Port City.
Is this the drink that was named after the16th century queen Mary Tudor, the 5th child of Henry VIII? Or is this the Bloody Mary created in 1923, during World War I, when the bartender, Scotsman Harry MacElhone at the Plaza Hotel in Manhattan, of "Harry's New York Bar," decided it was profitable to make cocktails with Russian vodka and experimented with canned tomato juice cocktail? Regardless of the true story of who created this versatile cocktail, I would like to share my experience of the best seven Bloody Marys in Wilmington NC.
My first stop was at the Felix Café. The Bloody Mary here is quite visually impressive! Garnished with bacon, celery, manzanilla olives, and a slice of lemon and lime, it has a liberal dusting of Old Bay seasoning on the rim. The Bloody Mary is made with a house vodka and a house Bloody Mary mix which has a spicy flair, quite savory and packed with flavor!
My second stop was at another great local place in Wilmington NC, the Copper Penny. This drink is garnished with celery, manzanilla olives, and a slice of lemon and lime. This drink also has Old Bay seasoning on the rim. Copper Penny will make the drink to your liking. Do you want a little extra spice? They will take care of that for you! They use a house vodka, their own Bloody Mary mix, and add a splash of Guinness, hot sauce, and sliced jalapenos.
My third stop was at Jax Fifth Avenue Deli & Ale House. Jax has the look of an old diner on the outside and ale house on the inside, and offers up one of the most amazing, bold Bloody Marys. The rim is heavily seasoned with Old Bay, and the drink is garnished with manzanilla olives. There are slices of jalapenos, fresh cracked black pepper and dashes of hot sauce added as well. This Bloody Mary is packed with awesome flavor, boasting a rich tomato juice base and a very bold body!! In my opinion, Jax offers the perfect spicy Bloody Mary!
On my 4th stop, I went to another highly recommended place called The Fork and Cork. Their take on this beverage is garnished with a pickled okra and green olives. Again, this is another house Bloody Mary mix, but it is very different from the other Bloody Marys I have tasted. This drink offers an earthy, mild taste. It does feature sliced jalapenos as well, but this Bloody Mary is quite mild and perfect for the person who does not like a strong tomato base.
I went to a small little joint called Duck and Dive on my 5th stop. This is not your fancy Bloody Mary – it is served with a sliced lemon, a sliced lime, and no seasoning on the rim. Duck and Dive uses a house mix, and the taste is quite delicious, resulting in a mixed drink that is not too spicy or too mild. This is a tasty, simple cocktail that will be appreciated by most Bloody Mary lovers — and at a reasonable cost.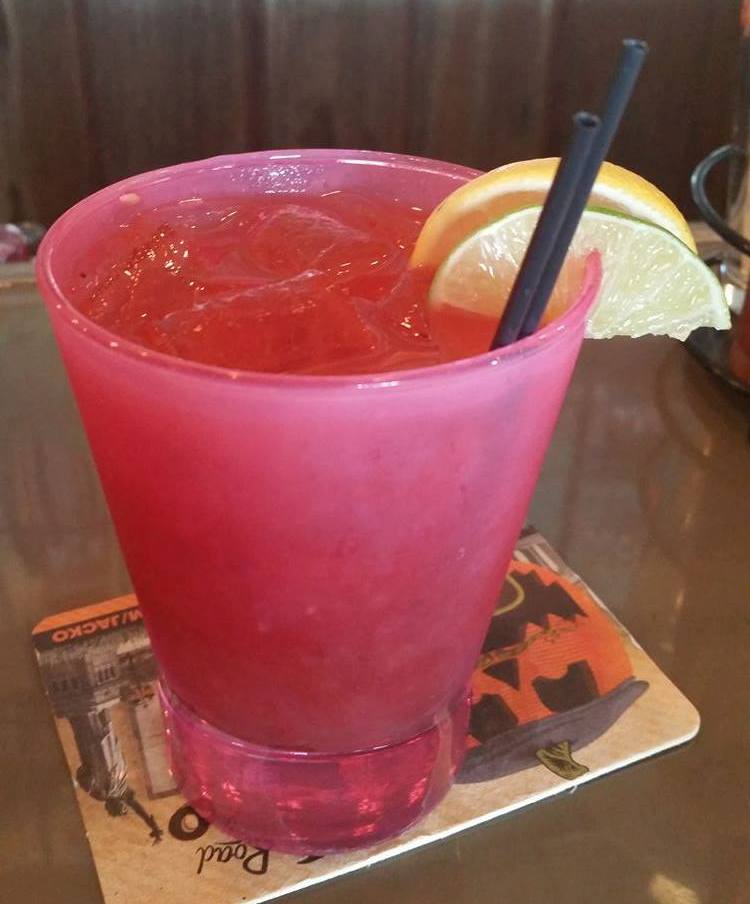 Winding down with my sixth stop – almost to seven days of Bloody Marys – I went to the amazing restaurant/bar downtown called Beer Barrio. A great little restaurant on a key corner in downtown Wilmington, this establishment offers up some amazing fresh foods with a Mexican flair. Their Bloody Mary is seriously like no other! It is served up with a lemon and lime garnish, and no seasoning on the rim. Sounds pretty unexciting, right? Not a chance. This Bloody Mary mix is made with Beer Barrio's own salsa, a splash of their pico de gallo sauce, and jalapeno juice. Sounds spicy? It is, but not too spicy. The way these mixologists incorporate their flavors provides a perfectly balanced and very unique beverage.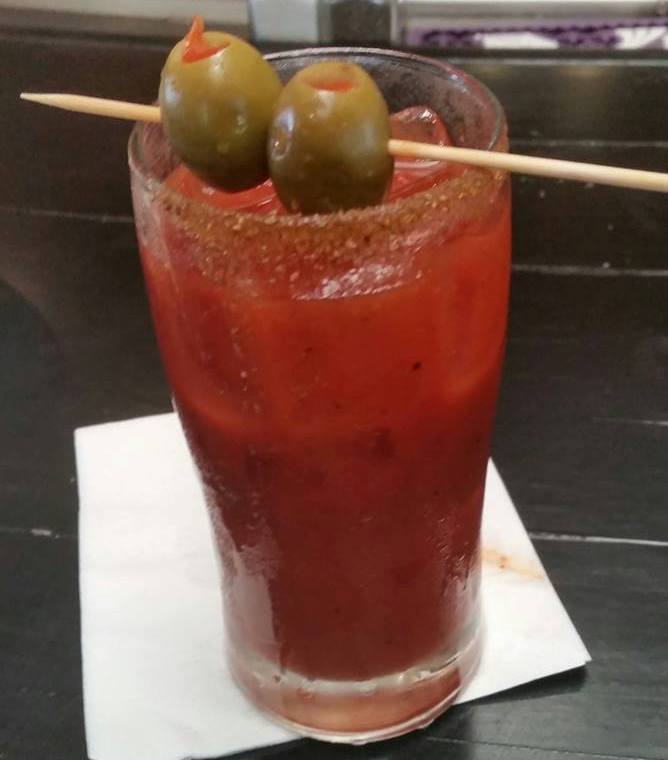 My final and last stop was one that was highly recommended by fellow foodies in the Port City: Hops Supply Co. Their cucumber-infused Bloody Mary is given high reviews on local media sites, so I was eager to give it a go. The Hops Supply Bloody Mary is mixed with Rain cucumber vodka, garnished with manzanilla olives, and sports an Old Bay seasoned rim. Their Bloody Mary mix is vegan based and offers a very bold flavor with a nice balance between spicy and sweet. While I was there, the very accommodating bartender mentioned that they also mix a chipotle Bloody Mary, so I figured why not give this one a try too. The drink was presented in the same way as the cucumber-based cocktail and the rim also seasoned with Old Bay seasoning. But here's the difference: the vodka is infused for days with chipotle. This is also a vegan based mix, and makes a nice, spicy Bloody Mary for those who like a little more kick and a full body.
I found on my Bloody Mary taste-testing tour that this drink can be made in a myriad of ways, and that the secret is truly in the Bloody Mary mix. Establishments often like to keep their "secret in the sauce" so to speak, so that they can offer up their own unique signature drink. Bloody Mary mix can be made with beef broth, salsa, pepper, pickles and olive juice, a variety of hot sauces, seasoning and beers. The Bloody Mary is something of a chemistry experiment. One that calls for ongoing investigation.
About the contributor:
Sarah Koob is a foodie, an accomplished home cook, and lover of seafood, Bloody Marys, and is always up for any kind of food adventure. A Midwestern transplant to Wilmington NC, she wholeheartedly tackles investigative assignments for Port City Foodie.
Save
Save
Save
Save
---
---