7 Super Burgers: Port City's Best Hamburgers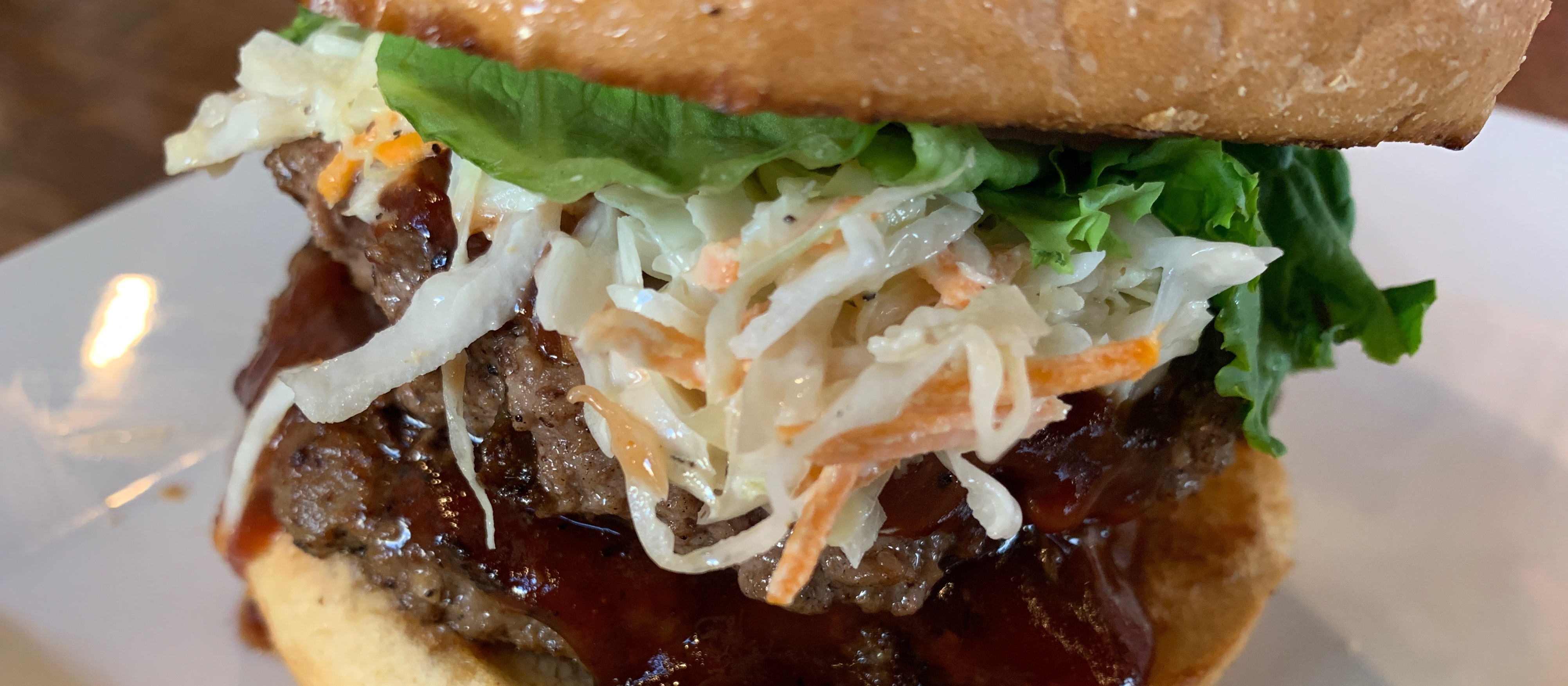 Looking for an incredible burger? We've got a list of the seven super burgers. These are the best hamburgers in Wilmington: the juiciest, most flavorful, most substantial burgers that promise to satisfy any meat eater. At least until we find a new favorite burger joint.
We don't eat red meat very often, to be fair, so when we do, it must be good. Really good. A great burger once a month is a treat. Which restaurants are our go-to for a seriously delicious hamburger, one that's more than a burger-in-paper, one that has all the trappings of a gourmet meal? Well, any of the burgers on this list will please your meat-loving palate. Note: we ordered our burgers exactly as featured on the menus, without substitutions or subtractions. Our philosophy for this burger search was, "You're the burger expert; give us what you've got."
1.

True Blue Butcher and Table

1125 Military Cutoff Rd A, Wilmington
There's a trend in this list, and here's what we found makes a restaurant that serves a superlative burger: butcher on the premises. Our number one burger, and the next one on this list, both have awesome butcher shops connected to the restaurant.
True Blue is a relaxing, Euro-style bistro restaurant, with a gourmet butcher shop adding a trendy dine-and-shop ambiance.

We opted for the True Blue Bacon Cheeseburger, a ground chuck patty, dressed with bacon, cheddar cheese, lettuce, tomato, pickled onion, and a special sauce. The pickled onion added a high bright note on this super juicy burger. The frites on the side are a cool French version of fries, a perfectly tender-crispy and nicely seasoned.
2

. Pine Valley Market

3520 South College Road, Wilmington
Butcher shop, check. The ambiance here is neighborhood-y and casual, and you order your burger at the counter and then find a table. The 1/3 pound Market Burgers are made with freshly ground chuck at Pine Valley Market, hand pattied, and topped with your selections from a list of options that includes a few surprises, like apples, banana peppers, and roasted red peppers. There is also a tasty selection of sauces, and cheeses that include Bleu Cheese or Feta.
We did a Pepper Jack burger, with lettuce, tomato, and pickles. It was perfectly cooked, and absolutely lived up to the "don't do a drive-in, stop by Pine Valley" tagline. Extra credit for the homemade (and addictive) potato chips.
3.

Junction 421

5104 S College Rd, Wilmington
With two great burgers on the menu, Junction 421 makes the list with beef that is freshly ground in the kitchen. Not a butcher shop, but the next best thing. We opted for the Carolina Burger, which is a tasty combination of top quality chuck, pimento cheese, bacon, fried onion, BBQ sauce, and ranch. Cooked to order, we say don't mess with success: order this burger exactly the way the chef intends. Fried. Onions. That's all we need to say.
4.

Fork and Cork

122 Market St, Wilmington
Burger lovers, this menu is paradise. There are ten burger creations to debate between, and the option to build your own. The base of each is an 8-ounce burger patty, and the toppings are genius. Please, don't change a thing: we ordered the Hot Mess burger, which is an awe-inspiring combination of bacon, jalapenos, grilled onions, bleu cheese and cheddar, lettuce, tomato, onion, and pickles on a brioche bun. This is burger heaven on a special bun, and it's got some heat, which we love.
5.

Winnie's Tavern

1895 Burnett Blvd, Wilmington
Diner, dive, truck stop, local burger joint: this is Winnie's. Locals rub shoulders with Port workers, truckers, and bikers for a super-casual burger meal that is fast, tasty, and – in a best burger in Wilmington-kind of way – iconic. The Trailer Park burger comes with a reputation that has been earned with its fried green tomatoes, bacon and pimento cheese. Get your Winnie's burger with Cajun fries, or our favorite, onion rings.
6.

Tavern on 17th

1611 Dusty Miller Lane #305, Wilmington
Yes, there's a burger under there. This is when a burger isn't just a meat patty, it's the cure to what ails you. Tavern on 17th's Hangover burger is simply American cheese, bacon, and a fried egg. This is how the French eat a burger, just sayin'. There are other burgers on the menu, with the Wilmington favorite combos of slaw, pimento cheese, onions, and barbeque sauce, but we don't think you'll find a better burger, especially if you are looking for the antidote to having over-imbibed.
7.

P.T.'s Olde Fashioned Grille

Six locations – find them online
Six locations, all great burgers. This is the closest to a "fast food" burger joint on our list of Wilmington's best burgers, and P.T.'s has earned a place in the Port City's heart for a quick, budget-friendly lunch; they are only open until 3pm, so they do what they do well, with fast service and a crews of grill chefs flipping burgers. Served in a basket with super good – greasy, you-shouldn't-eat-them-all-but-you-can't-stop fries, P.T.s offers a choice of their eight-ounce Olde Fashioned Burger or the four-ounce P.T. Burger. Circle what you want on your burger – cheese, lettuce, pickles, tomato, ketchup, mustard, mayo, onion – P.T. is all about getting a great, fast burger, just the way you like it, on a grilled bun. We did the small burger, which leaves a bit extra bun, but it was just the right size for a red meat meal that doesn't overdo it.
Did we miss your favorite burger in the Port City? Comment us below and let us know what satisfies your burger cravings.
---
---