7 Sexy Salads | Great Dinner Salads in Wilmington NC
We went on a salad mission, looking for seven sexy salads in Wilmington NC. Out we headed, for lunch… for dinner… and kept our eyes on the "salad" section of the menu.
It's so simple to throw together a romaine-candied pecan-dried cranberry-goat cheese combination in our own kitchen, that we demand a little creativity on the part of a restaurant chef. Salad shouldn't be an after-thought. It doesn't have to the "diet option." A main course salad deserves the same attention that the chef and crew give every other entree on the menu.
That said, we offer these seven sexy salads as suggestions for a lighter meal, but one that's not lacking in flavor, color, and ability to satisfy. Kudos to the seven restaurants whose salads made the list. These are merit many return trips.
We offer seven sexy salads, in no particular order:
Double Roasted Beets, Fresh Local Mozzarella, and Oranges
Niche Kitchen and Bar, 5954 Carolina Beach Road, Monkey Junction
This salad is a work of art: a visually delightful combination of brilliant color, textures, and the perfect balance of flavors. Why do salad lovers love salads? They're sexy, and Niche's salads – especially this option – exemplify that salad aesthetic. Opt to add a protein, like a perfectly prepared chicken breast, and it's the perfect meal. We may have upset the photographic appeal of this beautiful salad with the chicken, so apologies to the kitchen. (Note: the banner photo is Niche's mixed salad with fried oysters, pecans, grapes, and blue cheese.)
Chicken Curry Salad
Le Catalan French Cafe, 224 South Water Street, Wilmington
On the Riverwalk, everything about one of my favorite salads in Wilmington is sexy: the flavors, the setting, the sunset.
A perfect balance of light flavors, Le Catalan's variation on chicken salad includes cucumber, carrot, raisins, and a (slight) bed of mixed greens. Served with crusty baguette, add a glass of Pinot Grigio and you've got it right. The Chicken Curry Salad is my downtown Wilmington go-to, equally satisfying for both lunch and dinner.
Spicy Cashew Soba Noodle
Chopt, 1125 Military Cutoff Trail, Wilmington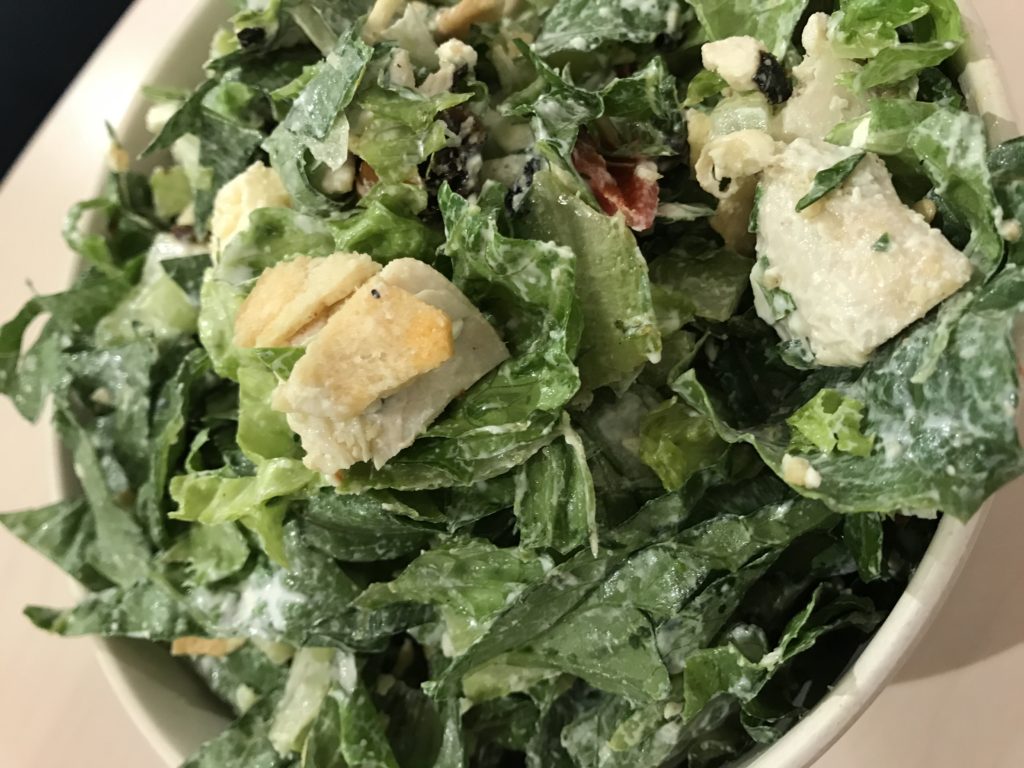 Chopt is a chain, specializing in soup and salad meals, bowls, salads, and salad sandwiches. They are a relative newcomer to the Wilmington scene, but they really bring it to our list of seven sexy salads.
The biggest question you'll have here is "Where to start?"
We opted for the Spicy Cashew Soba Noodle Bowl, a 240 calorie combination of Soba noodles, carrots, edamame, celery, scallions, broccoleaf, purple cabbage, and kale. Wowza. Add some heat with a drizzle of Sriracha. This is the perfect place for salad lovers to grab a fast salad. You have the option of having your salad chopped or tossed, so get it your way. The salad crew are super friendly and helpful, so you can build your own salad from the incredible selection of ingredients, or choose from the great big menu posted on the wall. Check out the Destination Salads, with menu options that change every 60 days featuring seasonal, locally-sourced ingredients.
Spinach & Fried Chesapeake Oyster Salad
City Club of Wilmington, 23 South 2nd Street
The fried oysters are the star here, but the spinach salad is equally lovely, with red onion, shaved carrot, egg, Apple Wood smoked bacon, blue cheese, avocado and buttermilk herb dressing. City Club – which is especially appealing to food lovers by way of their carefully curated gourmet menus – is a membership club, so if you want to indulge your salad diva here, join… or leverage an invite from a friend.
Banana Blossom Salad
Indochine, 7 Wayne Drive, Wilmington
If you can resist the curries and other delicious Thai dishes at
this Wilmington favorite, there are four tempting dinner salads on the Indochine menu.
Be tempted: shredded banana flowers, marinated shrimp and duck, basil, cilantro, cucumbers, onions, daikon radish, peanuts, and banana blossom dressing. We opted for the Banana Blossom Salad because we'd never had a banana blossom (pictured to the left) before. This salad has a lovely blend of Thai flavors, and a nice crunch. With a generous amount of thinly sliced shrimp and duck mixed in, it makes a satisfying meal.
FGT Caprese
Sweet n Savory Cafe, 1611 Pavilion Place, Wilmington
Fried green tomatoes, buffalo mozzarella balls, fresh basil, honeydew melon, Serrano ham, red pepper, champagne vinaigrette and honey-balsamic glaze.
For something different, opt for your fried green tomatoes at the center of a Caprese salad. Sweet n Savory has decided to add the classic flavors of melon + aged ham to what is traditionally a very simple salad. That said, the FGT Caprese has a little bit of everything, but the star of the show is really the generous stack of lightly breaded, perfectly fried green tomatoes and melted mozzarella. Drizzled with balsamic, the tart to sweet punch of this salad is delightful.
Grilled Chicken Mansion Salad
Henry's, 3508 Independence Boulevard, Wilmington
The greens are the star in Henry's salads. Add grilled chicken, roasted new potatoes, Roma tomatoes, bacon, and grated cheddar cheese. If you ask around for recommendations on the best salad in Wilmington, this large and lovely salad will most likely make the list.
The Seared Ahi Tuna salad and the Grilled Salmon salad at Henry's are favorites, too, and if you delight in a dinner salad, you have choices to make here. That means, you'll have to make a trip or two.
---
---