Chris Miller | Ghostal Carolina the Pepper People
Chris Miller, Owner, Ghostal Carolina Pepper People:
"All of our sauces, jams, and salts are from our own produce. It's a way to preserve what we grow; we go full circle. Whatever plants we don't sell, end up in my kitchen."
A Knack for Heat
I'm a horticulturist. I went to Clemson. My "other job" is working as a horticulturalist at a golf course. My husband and I met, and he loved pepper plants, and I stole his flame, so to speak. I started making the sauces, I did fermented salts, and I did jams, too. I create all the recipes. I just have an idea, like, "I need something for seafood, with pineapples," and I add lemon drop peppers, and a splash of coconut, and a little ginger. And if it sounds really good, I'll make it and I'll have a couple chef friends try it, and often they say, "Don't touch it – leave it just the way it is." I have a natural knack for hot combinations.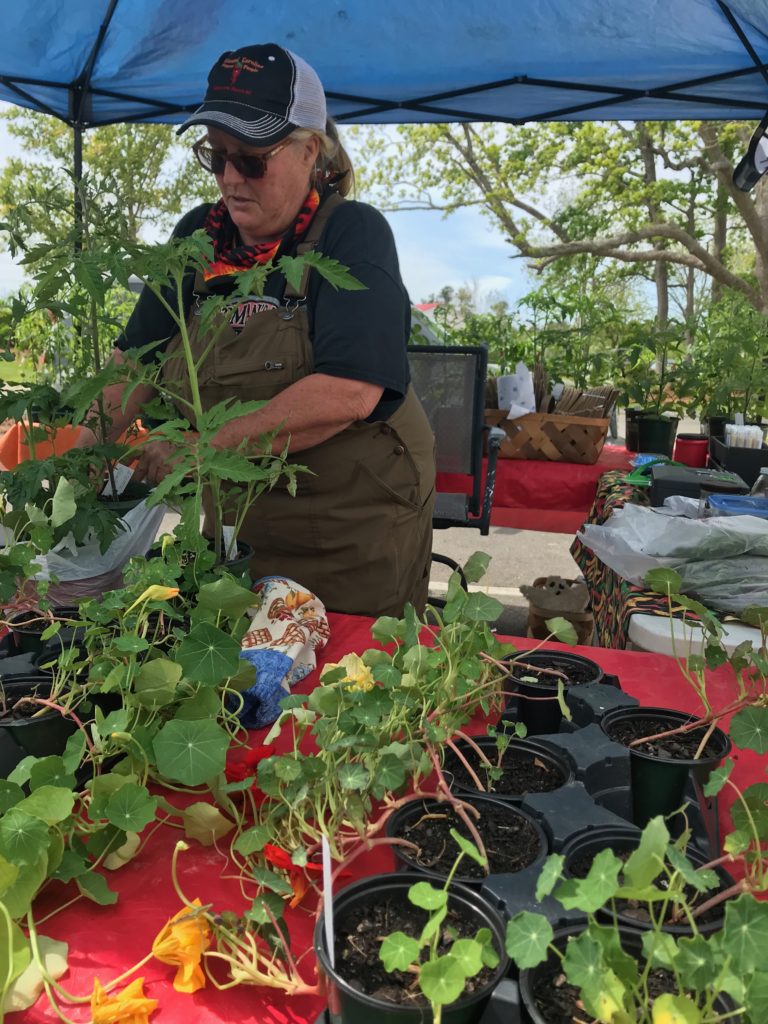 The Hot Chocolate, for example, has charred hot peppers in it, as well as raw peppers to give it different levels of flavor. Then I mix it with Muscadine grapes, and peaches, and it's great on barbeque. We have one that's fermented Meyer lemons, too. If we bring pepper pods back from the market, I start making sauces. I have access to a kitchen, so it's a natural way to use everything we grow. I use everything from the tomatillo to our Carolina Reapers. That was actually born and bred right here in coastal North Carolina, right close to our home.
There is a difference between hot for the sake of hot, and peppers with some flavor under it. Like the Lemon Drop peppers; I mix the fermented peppers with a little dehydrated garlic, and made an infused salt, and then took some more the peppers to add to a sauce, and then made a jam with the rest. I'll put a Lemon Drop pepper in with strawberry jam, and my husband comes up with a cool name. Like Prickly Heat, or Loco Strawberry.
My favorite is the Loco Peach. There is something about peaches and heat that's just… yeah. It's good. People will try it and say, "Oh, it's hot," and they try some more, and you get that sweet. I'm don't like the dares and crazy pepper games. I only sell to kids if their parents are with them.
Passion for Peppers
I can't do real hot, I can only do the Ghost Pepper in moderation. It has a very fruity flavor to it, especially if you char them. It brings out the fruity flavor. The Ghost Pepper is a really good tasting pepper. People freak out when they hear it's in there, but then they get the flavor of it, and they are surprised. Just a little, it's fine. It makes a good seasoning. I also took some local honey and did a Ghost Pepper infusion with it. You get a little sweet with your heat, which I love. You can use that when you are cooking, but it's also good on cornbread.
My husband is actually a better cook than I am. He does a great frittata with some of the chard that we grow. We don't really good with too much heat – we use jalapenos, and sweet peppers. But if we are going to grow a sweet pepper, it's going to be a rare variety, like one that you would find in Venezuela, or one that you would find in the middle of the country, so that's what we cook with. We grow stuff that you big box stores don't grow. Different colors. Different shapes. That's what we look for.
Going to Market
We have a small farm, with a house we are building, so we haven't moved there yet. Right now, we are growing in two places. We've got fig trees on one of the properties, and pomegranates, persimmons, guavas, schezwan peppers, and lots more. We've been doing the markets for about ten years. We also do breweries, and bring out a combination of products and produce.
We start with the plants, and give everybody a chance to get their own plants, and do their own heirloom garden or organic garden. We don't do any spraying on any of our plants. If we do a spray, it's all organic: oil, or soap. We have tomatoes, peppers, and probably some okra. Whatever plant we feel is a little bit special or different. We concentrate mostly on tomatoes and peppers. All heirloom, although we do some hybrids because people like to grow in pots.
We try to grow everything from seed. We spend a lot of time working to get the best plants, that's how we got our motto, "We go from seed to sauce." Everything we have goes full circle. You'll see plants. Then you'll see our produce, and then at the end of the season, you'll see more sauces, jams, and salts.
Port City Foodie cooking tips to add a bit of heat to your cooking:
Try Lemon Drop Garlic salt on salmon, serve with pine nut couscous.
Pat Espresso Chocolates salt on steak before grilling.
Baste roasted chicken with Loco Peach jam.
Find Ghostal Carolina at a farmer's market this summer, and say "hello" to Chris and her husband, the "pepper people." They are at the Shallotte market on Saturdays, and Sunset on Thursdays. Ghostal Carolina Pepper People is on Facebook at Millers Gardens.
---
---