Chilly Weather Chili: The Verandas "Meat Lovers" Chili
Cool Spring nights in North Carolina are perfect for a soul-warming bowl of chili The Verandas, especially if you tuck around the chimenea, under the stars, with a local craft beer.
The Verandas recipe for chili is loaded with good things, and it seems complicated but is actually very simple.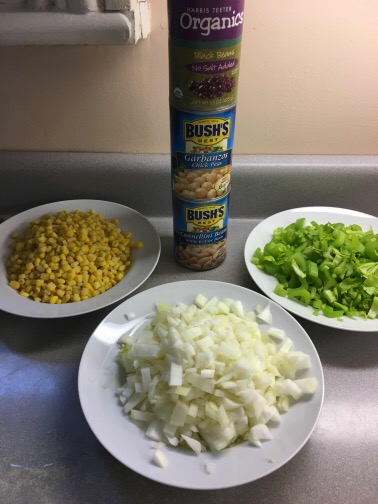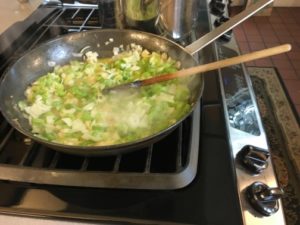 Ingredients:
1 Container (48 Oz.) of V8 Juice
2 Bottles (46 oz.) of Mr. and Mrs. "Bold and Spicy" Bloody Mary Mix
1 15. Oz can Black Beans
1 15 Oz. can Garbanzo Beans
1 15 Oz can of Cannellini Beans
1 6 Oz. can Tomato Paste
1 Package McCormick Chili Mix
1 Clove minced Elephant Garlic
1 Lb. Pork Sausage
1 Lb. Turkey Sausage
2 Lb. Chicken Sausage
3 Cups chopped Celery
3 cups chopped Onion
Olive Oil and Butter
Bag of frozen corn
Instructions:
1. In large pot, put the V8 Juice and Bloody Mary Mix, put on low to medium low heat.
2. Add the McCormick Chili Mix and Tomato Paste.
3. Sautée all three meats in a large frying pan (Olive Oil) and put in large pot.
4. Sautee the celery, onion, and garlic in butter. When clear, put in large pot.
5. Add ½ stick Butter to the pot.
6. Add the 3 cans of beans (with the liquid).
7. Add the corn after sautéing in butter.
8. Add a Lb. of sliced strawberries (Just kidding!)
9. Cook until hot, taste, add salt or pepper as needed.
Serves about 18. Add Farfalle Pasta if you wish, it gives the chili something to hang onto. Meat Lovers Chili the Verandas is better the next day.
Wilmington's beautiful The Verandas, is a Victorian Italianate Mansion. Noted for its top-rated accommodations, Southern hospitality, intriguing history, and easy access to dining, shopping, and North Carolina beaches, a stay at Verandas will be one you promise yourself to repeat.
Chuck Pennington is proprietor of The Verandas Bed and Breakfast Inn in Wilmington NC. For more than 20 years he has been the consummate host, serving gourmet breakfasts to guests from around the world. His talents in the ultimate cook's kitchen of The Verandas doesn't stop with breakfast; he deftly produces desserts, hors d'oeuvres, and other delights.
---
---